Moroccan rains kill 24, force mass evacuations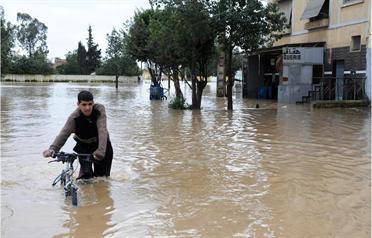 Heavy rains in Morocco have claimed 24 lives and forced 2,000 people to be evacuated over the past week, interior ministry officials said Saturday.
The victims, across northern and central Morocco, died as rivers rose or houses were swept away in landslides, causing over 2,000 homes to be lost.
According to the authorities in Rabat, 2,252 houses have been lost and another 328 damaged, with 80,000 hectares (300 square miles) of agricultural land submerged.
Hundreds among those evacuated are in temporary shelter, said officials who are distributing food aid along with bedding and medicine.
Morocco's weather forecasters have warned that the rains -- unusually heavy going back to September -- are set to continue through Sunday.
Follow Emirates 24|7 on Google News.