Three dead after ambush on Togo soccer team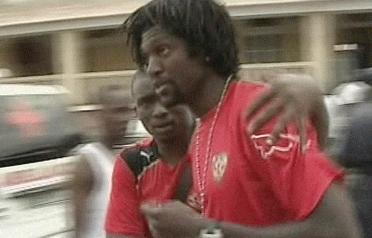 Africa's biggest soccer tournament starts in Angola on Sunday, overshadowed by an ambush by separatist rebels on the Togo team bus that killed three people and wounded seven.
Togo's government said it was pulling the team out of the African Nations Cup. But a squad member was quoted as saying that players were determined not to flee "like cowards" and would line up on Monday for their first Group B match.
Angola has spent $1 billion building stadiums, roads and hotels for the competition, which brings together Africa's best national teams. The bi-annual tournament, which lasts until January 31, will be broadcast live around the world.
The African Nations Cup is due to start with fireworks and champagne at a massive stadium in the capital Luanda, where the hosts play Mali in the opening match later on Sunday.
But Friday's attack on the Togo team in the northern enclave of Cabinda, staged by a rebel group that the government said recently no longer existed, cast a shadow over an event supposed to show Angola was at peace after years of civil war.
The rebels of the Cabindan separatist group FLEC sprayed the Togolese bus with gunfire, killing the bus driver and wounding nine others. Two members of Togo's soccer delegation died on Saturday and one was undergoing surgery in South Africa.
A Togolese minister said the government was pulling the team out of the tournament because of "this dramatic situation".
However, French sports newspaper L'Equipe quoted Togo midfielder Alaixys Romao as saying the team had agreed unanimously to stay in the tournament.
"We have just had a meeting of the whole delegation and we will be on the pitch on Monday to face Ghana," said Romao, who plays for French club side Grenoble.
"People have died for the African Nations Cup, others have been injured. We can't let them down and leave like cowards," said Romao. "Our government does not necessarily agree with us but we are all determined to play this competition."
Officials of the team and the Confederation of African Football were not immediately available for comment. English Premier League club Manchester City said on its website that its star striker Emmanuel Adebayor, Togo's captain, was returning home.
Security analysts said the ambush showed how easily insurgents can grab world headlines with attacks on soft targets and embarrass countries by exposing lapses in security.
MORE SECURITY
Togolese officials named the dead men as media officer Stanislas Ocloo and assistant coach Amalete Abalo, and said reserve goalkeeper Kodjovi Obilale had been evacuated to Johannesburg where he underwent surgery.
Cabinda, the scene of FLEC attacks even after Angola's 27-year civil war ended in 2002, provides half the oil output of Angola, which rivals Nigeria as Africa's biggest producer.
It was the second militant attack on a sports team in less than a year. Last March, six policemen and a driver were killed when gunmen attacked a bus carrying Sri Lanka's cricket team in Pakistan.
Friday's assault raised questions about security for the soccer World Cup taking place in South Africa in June, but organisers of that event dismissed any comparisons. South Africa is the first African nation to hold the world's biggest single-sport event.
Chief World Cup organiser Danny Jordaan said the attack would have no impact on the World Cup. "It is nonsensical for South Africa to be tainted with what happens in Angola, which is not even one of our neighbouring countries," he said.
Former Togo coach Otto Pfister disagreed. "This is a real blow for Africa. It will obviously be linked directly with the World Cup," he told German sports news agency SID.
Security analysts said outsiders involved in the World Cup are unlikely to ignore the Angolan attack and will want to review South Africa's security preparations.
South African President Jacob Zuma will attend Sunday's opening ceremony despite the attack, his spokesman said.
Cabinda, wedged between the Democratic Republic of Congo and Republic of Congo, was due to host seven matches.
Keep up with the latest business news from the region with the Emirates Business 24|7 daily newsletter. To subscribe to the newsletter, please click here.
Follow Emirates 24|7 on Google News.