Time for Somalis to compromise, says UN envoy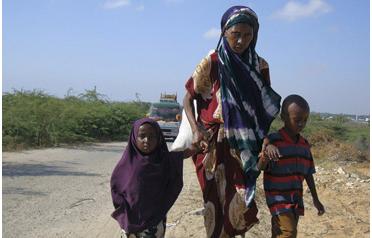 The international community is pushing Somali politicians meeting in neighbouring Djibouti to form an inclusive government with the main Islamist opposition party and elect a new president next week.
"What I think has been missing in Somalia for the last two decades, or since the war started, is the idea of compromise. How could someone try to compromise, not to seek total victory?" asked UN envoy Ahmedou Ould-Abdallah.
A Western-backed interim government and its Ethiopian military backers failed to bring stability to a country where more than 16,000 people have been killed in the past two years and 1 million uprooted from their homes.
Politicians confined to the capital Mogadishu and the seat of parliament Baidoa have lost credibility among Somalis, and Islamist insurgents have been waging a guerrilla war against the government since the start of 2007.
The Ethiopian troops have left the capital and are pulling out of Baidoa. So far, fears that hardline Islamist fighters would overrun Mogadishu and plunge the country further into chaos have not been realised.
The hope is that a new government including moderate Islamists from the opposition Alliance for the Re-Liberation of Somalia (ARS) can form a new security force and start reaching out to the many who took up arms to fight the Ethiopians.
BETTING ON PEACE
"We should remind all Somalis to respect their tradition where there is a win-win situation, and compromise," Abdallah told Reuters late on Friday at the hotel where the politicians were meeting.
"We are betting on peace for a country that has been suffering for so many years. How to help the widows, how to help the orphans, in a Muslim country these are the basics."
The first step in Djibouti is for the 275-member parliament to meet and amend the constitutional charter. This would double the number of legislators so that 200 ARS members can join.
Getting the parliament to meet in one place has been a challenge. For the past few days, charter planes have been flying in legislators from around the region, and by Saturday there were enough in Djibouti for an amendment to be valid.
The new assembly is then expected to elect a new president and the United Nations would like everything to be wrapped up by next Wednesday in time for a regional leaders' summit.
The list of candidates is growing daily, but only a few are likely to be frontrunners. Prime Minister Nur Hassan Hussein is favoured by many in the international community.
Somalia's moderate Islamist leader from the ARS, Sheikh Sharif Ahmed, is also expected to run. While having the two leaders as president and prime minister could make sense politically, they are from the same tribal clan.
Diplomats say that if one becomes president, that effectively rules the other out from being prime minister as someone from a different clan would have to have that post.
Some members of the ARS delegation in Djibouti believe it would make sense to expand the parliament and then wait a few weeks before electing the president. Abdallah is hopeful a deal can be struck on time, with the right political will.
"I am optimistic because it is a challenge to Somalis. They have to show they can deliver and time is long overdue for them to deliver. They cannot continue blaming each other, or their neighbours," he said. 
Follow Emirates 24|7 on Google News.
It is time for feuding Somalis to ditch the concept of winner takes all and seek compromise to try and end nearly 20 years of conflict, the UN envoy to the Horn of Africa nation said.