Voting starts in key Ghana constituency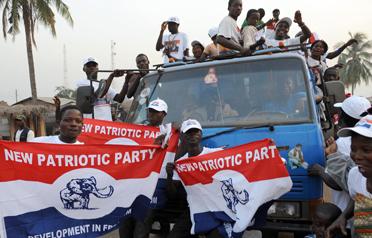 Voting began on Friday in a remote farming region of Ghana in an election that will determine the outcome of the presidential vote of a country seen as a model of democracy in West Africa.
Polling stations in the region bordering Ivory Coast were set to close at 5.00pm GMT, despite a move by Ghana's ruling New Patriotic Front (NPP) party to stop the election from taking place in Tain.
An AFP photographer said agents of the ruling party were absent from polling stations.
Tain, which measures the equivalent of just 65 kilometres up and across, is the last of Ghana's 230 constituencies to vote.
Problems with distributing ballot papers had halted Taun's participation in a runoff poll on December 28.
Partial election results from 229 constituencies have shown opposition National Democratic Congress (NDC) candidate John Atta-Mills holding a thin lead of around 23,000 votes over ruling party rival Nana Akufo-Addo.
Akufo-Addo won the first round of voting on December 7, but not with enough votes to make him the outright winner.
On Thursday, the ruling party had sought an injunction to stop the electoral commission from announcing poll results before investigating what the NPP alleged were irregularities in Sunday's vote in an opposition stronghold.
It then also sought a court order to prevent the election from taking place in Tain on Friday.
Stakes have been high in the race to choose the man who will be governing the former British colony, known as the Gold Coast before independence in 1957, when it starts pumping oil in 2010.
The election has been the country's fifth since the return to multi-party democracy in 1992 – to succeed John Kufuor, one of Africa's most respected leaders, who has to stand down after two terms.
Follow Emirates 24|7 on Google News.