Zimbabwe's Tsvangirai due home for wife's funeral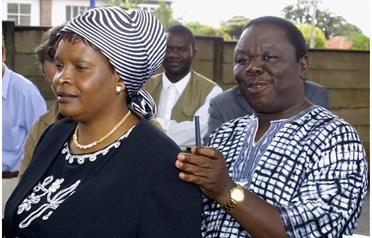 Prime Minister Morgan Tsvangirai was due back in Zimbabwe on Monday to prepare his wife's funeral after undergoing treatment in Botswana as controversy swirled over the car crash that took her life.
Tsvangirai's party insisted it would carry out its own investigation into the collision with a truck carrying aid paid for by Britain and the United States which the British government called a "genuine accident".
The prime minister was expected to be back in Harare Monday to organise the funeral for Susan Tsvangirai, who is to be buried on Wednesday, an official from his Movement for Democratic Change (MDC) said Sunday.
"The prime minister will come back from Botswana to be part of the arrangements," said the official, who did not want to be named. "All the preparations are being handled by the family."
"The funeral will take place in Buhera," the Tsvangirais' rural hometown, the official said, adding that the MDC would hold its own "special send-off ceremony" to celebrate the life of Mrs Tsvangirai, who he described as "our mother".
A decision to fly Tsvangirai out of Zimbabwe was taken after Botswana's President Ian Khama sent Foreign Minister Phandu Skelemani and other officials to visit him in hospital in Harare on Saturday.
Skelemani said Tsvangirai would get a second opinion on his condition at a private clinic in Gaborone.
Tsvangirai, who suffered neck and head injuries, was seen walking out of the Avenues Clinic in Harare on Saturday accompanied by members of his party.
"We went there because Tsvangirai had lost his wife. The president (Khama) sent us there to deliver condolences, and went to see him at the clinic," said Skelemani.
Khama is a strong supporter of Tsvangirai and has openly criticised Zimbabwe's President Robert Mugabe. Before joining a unity government with Mugabe, Tsvangirai stayed in Botswana for two months, returning on January 17 to resume power sharing talks.
"As Botswana's government we grieve with Tsvangirai. He needs to know that his friends are around him and they feel for him, and that is the sort of support we are showing him," Skelemani told AFP.
Tsvangirai was traveling with his wife on Friday when their car was hit by a truck carrying foreign aid and rolled several times. Susan Tsvangirai, 50, died at the scene.
The MDC has vowed to launch its own investigation and, although officials have not suggested foul play, the MDC number two, Finance Minister Tendai Biti, indicated that a police escort might have prevented the accident.
"Police are making their own investigation, we are also making our own," Biti said, adding about the escort: "The authorities could have avoided this omission."
Tsvangirai's car was hit by a truck which crossed into the oncoming lane and side-swiped the prime minister's vehicle, causing it to roll several times, police said.
Britain has confirmed that the truck was owned by a joint US-British aid project that delivers HIV/AIDS drugs. It denied reports that the driver may have fallen asleep.
"The driver was not asleep, he was well rested and had not been drinking," a foreign office spokesman said. "We cannot preempt any investigation by giving further details at this stage."
An MDC minister had told AFP earlier that the truck driver "appeared to be sleeping."
Mugabe and his wife Grace visited Tsvangirai in hospital on Friday evening and later sent a letter of condolence.
The accident has raised new concerns about the fragile unity government whose inception has been plagued by disputes over the appointments of top officials.
"The accident has presented a very challenging hurdle for the Zimbabwe fragile accord," said Daniel Makina, an analyst based at the University of South Africa.
"People are not going to stop speculating and will probably start pointing fingers. Unfounded and damaging speculation could be disastrous."
Tsvangirai claims to have been the target of four assassination attempts including one in 1997 when he said assailants tried to throw him out of his office window. He has also survived a severe beating by security forces.
Follow Emirates 24|7 on Google News.