Alaska volcano shows signs of possible eruption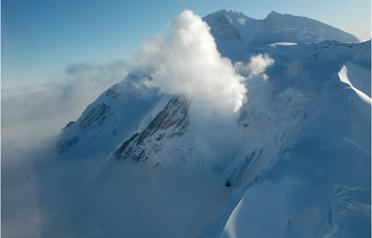 Scientists on Saturday reported more seismic activity at a volcano near Alaska's largest city Anchorage in the latest sign that an eruption could be imminent.
"Since late Friday afternoon, seismic activity has been relatively low at Redoubt; however, it is still above normal background levels," the Alaska Volcano Observatory (AVO) said early Saturday.
"The volcano is in a state of unrest," it said.
AVO, which monitors the state's 44 active volcanoes, reported Friday "no sign of ash emission, but observed significant steaming from a new melt depression at the mouth of the summit crater," at an altitude of 10,200 feet (3,108 meters).
"The volcano has not erupted," AVO said.
Redoubt's eruption in 1989 lasted five months. It became restive again in 1990.
An erupting volcano can release plumes of ash several kilometers (miles) high, but the direction of the cloud and whether Anchorage, home to some 280,000 people, would be threatened depends on the wind.
The Anchorage Police Department issued a brochure advising residents to take steps such as wearing glasses instead of contact lenses, refrain from unnecessary driving, stockpile food and water and protect electronic devices.
The observatory has issued an "orange" alert at the site, warning planes of possible dangers if the volcano erupts.
The four engines of a Boeing 747 became clogged in 1989 when the plane flew over the cloud of ash spewed out by Redoubt during its last eruption. The pilot managed to restart the engines and save all 231 passengers.
Reports of a possible eruption at Redoubt sparked so much interest that the observatory's website crashed early Friday due to the large numbers trying to access the site.
Follow Emirates 24|7 on Google News.