Authorities take over Stanford bank, companies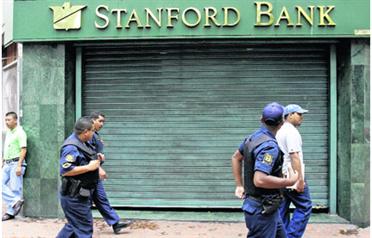 Antigua's government, which in 2006 gave Stanford a knighthood, and the Eastern Caribbean Central Bank announced the takeovers after a rush by depositors last week to withdraw their funds from Stanford banking affiliates.
Stanford, 58, was charged by the US Securities and Exchange Commission (SEC) on Tuesday with fraudulently selling $8 billion (Dh29bn) in certificates of deposit with improbably high interest rates from his Stanford International Bank (SIB), headquartered in Antigua.
SEC spokesman Kevin Callahan said that Stanford and his two co-defendants, James Davis, SIB's Chief Financial Officer, and Laura Pendergest-Holt, Chief Investment Officer of a Stanford affiliate, had surrendered their passports in keeping with a judge's order.
On Thursday, the FBI tracked Stanford down in Fredericksburg, about 80 kilometres south of Washington, to serve him with court papers, but a day later Stanford was nowhere to be seen in the historic Virginia town.
Meanwhile, the court-appointed receiver overseeing the assets of Stanford's customers – Dallas lawyer Ralph Janvey – said in a statement the customer accounts were frozen until legal claims could be sorted out.
Also, a federal judge presiding over the Stanford case, US District Judge Reed O'Connor, was recused because a relative has "substantial" Stanford holdings, according to a court filing.
The Stanford scandal, hard on the heels of allegations that Wall Street veteran Bernard Madoff carried out a $50bn fraud, has spooked international investors and triggered investigations in Latin America, Europe and the United States.
Peru said on Friday that it had started an investigation to see if the local unit of Stanford Group had engaged in money laundering.
Acting at the SEC's request, FBI agents served Stanford court orders and other documents on Thursday in Fredericksburg, Virginia. Stanford is not under arrest and his precise whereabouts remain unclear.
In Washington, Congressman Dennis Kucinich asked SEC Chairman Mary Schapiro to say by March 9 whether the agency suspended a 2006 investigation of Stanford.
He also wants to know if it was asked to do so at the request of another federal agency.
In announcing the takeover of Stanford-controlled Bank of Antigua, the Eastern Caribbean Central Bank said it took the action after "an unusual and substantial withdrawal of funds...which has the potential to create severe liquidity problems for the Bank."
The central bank said publicity surrounding the Stanford case had created a situation where the interests of depositors and creditors were threatened.
Earlier on Friday, Antigua and Barbuda's bank regulator appointed a receiver to take control of SIB and Stanford Trust Company.
Stanford was the biggest private investor and employer in the tiny Caribbean state, for him just a part of a business empire that stretched from the US to Latin America and Europe.
In Fredericksburg, news crews maintained a vigil outside the family home of a woman, Andrea Stoelker, said to be a girlfriend of Stanford.
British news reports had identified Stoelker, a former Fredericksburg resident, as Stanford's girlfriend and president of the board of directors of a cricket tournament that Stanford sponsored in Antigua.
In the US Virgin Islands, where Stanford had plans to build a global management complex, authorities suspended his company from a tax-incentive programme, a government official said.
"We are cooperating with the SEC," Percival Clouden, Executive Director of the Virgin Islands Economic Development Authority, said by telephone from St Thomas.  
Police raid Stanford unit 
Ecuadorean police raided a unit of Stanford Financial Group in Quito late on Friday as part of an investigation into the local operations of the firm, charged with fraud in the United States.
Police wearing plastic gloves and carrying empty boxes entered the towering glass building that holds the posh offices of Stanford's brokerage firm in the capital of the Andean nation.
"This was a raid as we are carrying out an investigation," state money laundry prosecutor Mauricio Garrido said on the phone from inside the Stanford offices. Garrido declined to give more details about the investigation.
The reason was not yet clear for the raid only a day after Ecuadorean regulators seized control of two local Stanford units following US authorities' move to freeze the assets of Texas billionaire Allen Stanford.
Ecuador is investigating if Stanford's local units illegally sold financial instruments linked to a bank in Antigua owned by Stanford. The total exposure of Ecuadorean investors was not yet clear.
A government official close to the situation said police were likely searching for the identities of Stanford investors who illegally held their funds overseas.
The scandal engulfing Stanford and his financial empire rippled through Latin America, where well-off investors placed their money overseas because of fears of political and economic instability in their home countries.
Follow Emirates 24|7 on Google News.
Regulators seized Texas billionaire Allen Stanford's banks and companies in Antigua and Barbuda, the Caribbean state at the centre of fraud charges against him, as the financier surrendered his passport to US authorities.