Bearing hopes of a nation, Obama arrives in Washington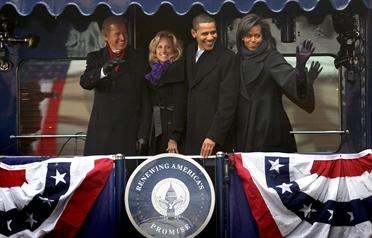 Barack Obama rode a special inaugural train into Washington Saturday three days before becoming president, carrying the hopes of a nation demoralized by recession and entangled in two foreign wars.
A new poll showed a burst of optimism among Americans that Obama can make good on his transition slogan and renew America's promise, as tens of thousands of people braved knifing cold to cheer the president elect towards his prize.
"Let's make sure this election is not the end of what we do to change America, but the beginning," the president-elect said as he trundled towards the US capital and his place in history as the first black president.
Along a railroad from Philadelphia to Washington, a route once traced by his hero, former president Abraham Lincoln, Obama urged Americans to adopt a new "Declaration of Independence" from bigotry, small thinking and ideology.
And as rolled into Washington's Union station, a short stroll from where he will be sworn in on Tuesday at the US Capitol, a New York Times/CBS poll found 79 per cent of Americans were optimistic about four years under Obama.
After eight tumultuous years under President George W. Bush, 68 per cent said Obama would be a good, or very good president, reflecting the soaring expectations and high stakes for his looming presidency.
In Philadelphia, the cradle of US independence, and again before a shivering 40,000-strong crowd in Baltimore, Obama told Americans to delve into history and draw strength from US independence heroes at a time of rare national peril.
"Only a handful of times in our history has a generation been confronted with challenges so vast," said Obama, 47, highlighting the diving economy and wars in Afghanistan and Iraq.
"And yet while our problems may be new, what is required to overcome them is not," he told around 300 supporters in a flag-draped station waiting room.
"What is required is a new declaration of independence, not just in our nation, but in our own lives -- from ideology and small thinking, prejudice and bigotry -- an appeal not to our easy instincts but to our better angels."
Exuberant supporters gathered on embankments and at remote country stations to glimpse the ceremonial train, dubbed the Inaugural Express.
"Hallelujah, we did it!" read one poster held up by a supporter, while another declared "Hail to the Chief" as the 10-car train did a "slow roll" through the Delaware town of Claymont.
A beaming Obama stood at the back of a 1930s Pullman caboose, waving to the crowds, recalling the "whistle stop" campaign tours seen in presidencies of yesteryear.
Dyone Watson, 20, waited for hours among an estimated 40,000 others to see Obama in arctic Baltimore.
"I'm starving, cold and my feet are numb," said Watson. "But it's definitely worth it."
Will Moore, 22, said "It's just beautiful. It just makes me want to do more with my life."
Security was overt. Police cars and officers along the train tracks patrolled crowds and areas of scrubby woodland -- a Chinook helicopter hovered protectively overhead while black-clad sharpshooters perched on city rooftops.
Hundreds more lined Washington's Pennsylvania Avenue to watch Obama's swift-moving motorcade whip past on his way to the presidential guest house at Blair House, opposite his new digs in the White House.
Earlier, Obama stepped off the train to pick up his vice president-to-be Joseph Biden, in his home patch of Wilmington, Delaware.
"Sometimes it's hard to believe that we'll see the spring again, but I tell you, spring is on the way with this new administration!" Biden said.
Earlier, a fired up crowd serenaded Michelle Obama, who turned 45 on Saturday with a rendition of "Happy Birthday."
The Obama Express later rumbled into the gritty Maryland port city of Baltimore, where tens of thousands of people waited for hours in freezing temperatures and endured intense security precautions.
The train arrived in Washington in the early evening at the end of the first of four days of inaugural celebrations.
The journey was the last stage of a quest for the presidency that took Obama from the declaration of his unlikely candidacy in the snows of early 2007 in Springfield, Illinois -- where, like Lincoln, he served as a state legislator -- across the length and breadth of the United States, and even to Europe and the Middle East.
Along the way he thwarted Democrat Hillary Clinton's bid to be the first woman president -- but offered her the consolation prize of secretary of state and dispensed with Republican John McCain in November's presidential election.
Follow Emirates 24|7 on Google News.