Bird flu confirmed on Canada turkey farm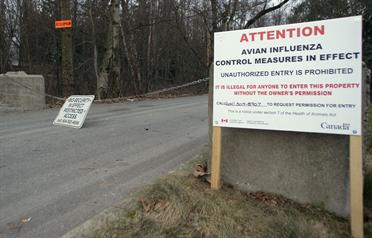 Tests have confirmed an outbreak of bird flu at a turkey farm near Vancouver, but it appeared to be a less virulent strain and posed little risk to humans, officials said on Saturday.
More than 50,000 birds on the Abbotsford, British Columbia, farm will be destroyed to ensure the avian influenza virus does not spread to other farms, the Canadian Food Inspection Agency said. 
Tests on sickened birds showed they had H5 avian influenza, but it will be another day or more before the exact strain of the virus is known and its pathogenicity, the agency said. 
Pathogenicity indicates the severity of the illness to the birds. Preliminary tests indicated that it was a low pathogenic strain, it said.
"Nobody has been infected by the virus," said Elizabeth Brodkin, medical officer of the Fraser Health Authority.
The H5N1 strain of the virus can infect people and is responsible for 252 human deaths since 2003, according to the World Health Organization.
China on Saturday reported its fourth human death from H5N1 this month.
Twenty-three farms within 2 miles (3 km) of the farm in British Columbia's Fraser Valley are under a quarantine as officials check to make sure their flocks have not been infected.
Officials said the farm had followed all the rules designed to stop and control the disease. 
The area had bird flu outbreaks in 2004 and 2005. The 2004 outbreak forced authorities to kill about 17 million farmed birds to stop the disease from spreading. There were no human illnesses in either outbreak.
The inspection agency said it was moving quickly to cull the turkeys to avoid a repeat of 2004, when the virus mutated to a highly pathogenetic form before the outbreak was contained. 
Follow Emirates 24|7 on Google News.