Chavez meets the Castros in Havana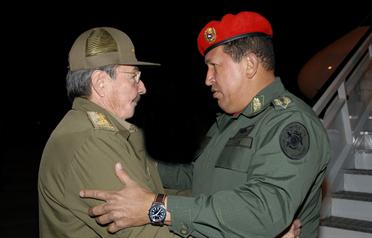 Venezuelan President Hugo Chavez, fresh from a referendum victory that allows him to seek another term in office, met twice with former Cuban leader Fidel Castro, a close ally, on a short visit to Havana, Cuban state-run television said.
The first meeting took place after Chavez arrived on Friday night and the second, with Cuban President Raul Castro also in attendance, on Saturday before his afternoon departure, the report said.
They were said to have discussed their socialist countries' "fruitful ties" and how the global economic crisis will affect Latin America and the Caribbean.
Fidel Castro, 82, has been in ill health since undergoing surgery in July 2006 for an undisclosed intestinal ailment.
After ruling Cuba for 49 years following a 1959 revolution, younger brother Raul Castro was elected by the National Assembly a year ago to succeed him, but he still plays a role in governing Cuba.
Fidel Castro has not been seen in public since his surgery, but has appeared in photos and videos from meetings with visiting leaders.
No images were shown from the meeting with Chavez, but television showed Chavez and Raul Castro, both in military uniforms, hugging and saying goodbye at the Havana airport.
Venezuela provides 92,000 barrels of oil a day to Cuba and is the island's biggest trading partner.
Chavez was accompanied by several officials, including Rafael Ramirez, Venezuela's energy minister and head of national oil company Petroleos de Venezuela SA.
The trip was the first for Chavez since he won the referendum on February 15 that allows to seek re-election when his second term in office ends in 2012.
Follow Emirates 24|7 on Google News.