Chavez seeks re-election chance in Venezuela vote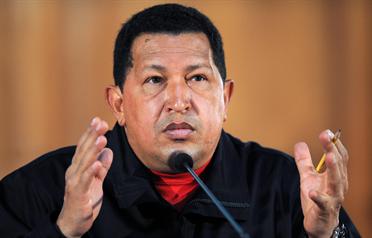 Venezuela's socialist President Hugo Chavez seeks voters' support on Sunday for a reform that would let him stay in power for as long as he keeps winning elections.
Chavez, who took office 10 years ago and wants to stay on at least another decade, holds a slim lead in polls but many Venezuelans remain undecided, meaning the vote will hinge on which camp better activates its get-out-the-vote machinery.
If he loses in what is his second attempt to scrap term limits with a referendum, Chavez would have to leave office in 2013 or find another way to change the rules so he can stand again.
Spearheaded by a popular but inexperienced student movement, the fragmented opposition's campaign slogan is "No is No," referring to Chavez's failed effort in 2007 to rewrite the constitution so he could extend his rule in the OPEC nation.
Confident of victory this time, Chavez said on Saturday a win would reinforce his mandate to create a socialist state and challenge US influence in Latin America.
"This will strengthen my faith in what we are doing," the 54-year-old president said.
But win or lose, he faces a tough year.
With oil prices more than $100 a barrel lower than their peak seven months ago, Chavez has far less income to spend on his programs of clinics, schools and food hand-outs for the poor Venezuelans who have consistently backed him.
Venezuela's currency and sovereign debt have lost value in recent months as investors worry his Cuba-inspired socialist 'revolution' will burn through international reserves.
FEAR TACTICS
Chavez warns poor supporters they could lose social programs if he is unable to run again for re-election. He has also adopted a familiar tactic of accusing the opposition of joining a coup plot directed from the United States and planning to cry fraud if he wins.
Venezuela used to be best-known for its Caribbean beauty queens, but now most people recognize the major oil exporter for its larger-than-life leader and his harangues against the 'evil empire' of the United States.
Still, with the vote falling on St. Valentine's weekend, he has shown his softer side and appealed to voters' passions.
Campaign fliers list the No. 1 reason to vote 'Yes' as "Chavez loves us and love is repaid with love." The second is "Chavez is incapable of doing us harm."
Opposition leaders say Chavez aims to become a communist dictator in a country with one of Latin America's oldest democracies. After making some gains in votes in the last two years, they complain he has used state resources to finance his campaign with frequent TV appearances that all channels are obliged to broadcast.
Chavez deported a European lawmaker on Friday for questioning the impartiality of the electoral authority.
Two pollsters - Datanalisis, which works for the public and private sector, and Consultores 30.11, which works for the government - gave Chavez a lead of between 5 points and 7 points ahead of Sunday's vote. They also showed he had widened his lead slightly since January.
But both surveys conducted during the final week of the campaign also said more than 10 per cent of Venezuelans who planned to vote still had not made up their mind, making the outcome hard to predict. The referendum result is expected to be announced late on Sunday. 
Follow Emirates 24|7 on Google News.