Clinton to press Pyongyang on Japanese abductees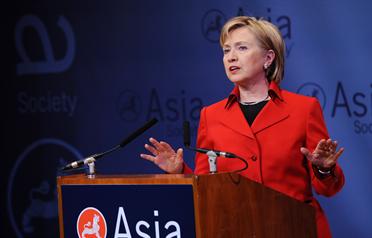 Making her first trip as secretary of state, Clinton said she would raise human rights in Beijing, where she criticized Chinese policies in 1995, but stressed the breadth of US-Chinese interests including curbing North Korea's nuclear programs, climate change and the global financial crisis.
While in Tokyo, the first stop on a trip that will take her to Jakarta, Seoul and Beijing, Clinton will meet the families of Japanese abductees, citizens snatched from their homeland in the 1970s and 1980s to help train North Korean spies.
Many Japanese were dismayed when Washington last year dropped Pyongyang from a US terrorism blacklist without settling the abductee issue and the meeting is a gesture to the faltering government of Japanese Prime Minister Taro Aso.
Five abductees returned to Japan on in 2002 but Tokyo wants information about eight more people Pyongyang confessed to kidnapping and four others Japan suspects were also victims.
"The abductee issue is an issue of grave concern. It is such a human tragedy," Clinton told reporters traveling with her as she flew to Tokyo. "We do want to press the North Koreans to be more forthcoming with information.
"It's part of the six-party talks. It is not just a concern of Japan," she added, alluding to the stalled talks between the two Koreas, China, Japan, Russia and the United States on curbing North Korea's nuclear ambitions.
North Korean state media on Monday said the country had the right to launch its longest-range missile, after reports in the South that such a test could come by the end of the month.
Tensions have risen on the Korean peninsula in the past month amid bellicose rhetoric from the North and media reports it may soon test its long-range Taepodong-2 missile.
North Korean state media on Monday said it had the right to launch the missile, calling it a cornerstone of its peaceful space program and accusing the United States and others of a "grave challenge" to question its intentions.
'WITH A VENGEANCE'
During President George W. Bush's administration, North Korea abandoned the Nuclear Non-Proliferation Treaty, scrapped the 1994 Agreed Framework deal designed to cap its nuclear program and, in 2006, conducted a nuclear test.
While the impoverished, isolated state agreed to abandon its nuclear programs in a six-party deal reached in 2005, the process has been stalled by North Korea's refusal to agree to a system to verify that it dismantles its atomic programs.
Clinton faulted the Bush administration for collapse of the Agreed Framework, which was negotiated when her husband, Bill Clinton, was US president.
The deal fell apart after the Bush administration accused North Korea of pursuing a highly enriched uranium program, which would have provided it with a second path to fissile material for weapons beyond its plutonium program.
"Once the Agreed Framework was torn up, the North Koreans began to reprocess plutonium with a vengeance because all bets were off and the result is that they now have nuclear weapons which they did not have before," Clinton said.
"My goal is the denuclearization of North Korea and that means a verifiably complete accounting of whatever programs they had and the removal of the reprocessed plutonium," she said.
Clinton, who on Friday offered North Korea normal relations, a peace treaty and energy and economic assistance, made it clear that North Korea would have to abandon its nuclear programs first.
Clinton, who finishes her trip in China, did not directly answer a question about whether she will meet rights activists in Beijing, where her 1995 speech on the topic was seen as the harshest criticism to date of China's rights policies by a visiting foreigner.
"We are not going to be shying away from talking about human rights issues but we have a very broad agenda to deal with when it comes to China," she said.
Follow Emirates 24|7 on Google News.
US Secretary of State Hillary Clinton said on Sunday she planned to press North Korea to account for Japanese citizens abducted decades ago and suggested human rights would not dominate her talks in China as she began a one-week trip to Asia.