Embarassed Obama admits mistake after Daschle withdrawal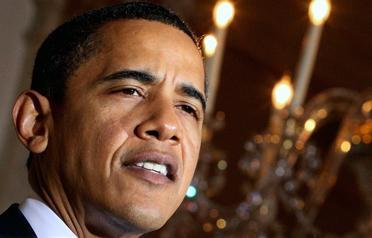 An embarrassed President Barack Obama admitted on Tuesday, "I screwed up," after his political soul mate and pick to lead health reform Tom Daschle withdrew in a storm over personal tax issues.
On Obama's worst day in the White House so far, he also lost another nominee – Nancy Killefer, who he had named as government budget watchdog, and termed one of his most "important" appointments – also over tax issues.
The twin bombshells overshadowed Obama's bid to showcase his economic stimulus plan in a flurry of television interviews and reflected the potential traps he has set for himself by promising a new era of ethical government.
"I don't want to send a message to the American people that there are two sets of standards, one for powerful people, and one for ordinary folks who are working every day and paying their taxes," Obama said in an interview with CNN.
"I think this was a mistake. I think I screwed up. And, you know, I take responsibility for it and we're going to make sure we fix it so it doesn't happen again," he said.
Obama had hoped to pile pressure on senators debating his massive stimulus plan, but the distractions scuppered the media offensive as he was forced to face down ethics questions instead.
Earlier, Obama said he accepted the decision by Daschle, one of his earliest supporters, with regret after the former Senate majority leader decided he could not escape a row over his payment of $128,000 (Dh470,000) in back taxes plus some $12,000 in interest.
Daschle said did not want to be a distraction for Obama's ambitious plans to reform healthcare.
"Lives and livelihoods are at stake," he said in a White House statement, even as many of his former Senate colleagues said the row may have blown over and he would likely have been confirmed.
The White House denied that it had any role in the decision, or that he was pushed to decline the post of secretary of health and human services and White House health czar.
"The decision was made by senator Daschle," said spokesman Robert Gibbs.
Daschle's demise came hours after Obama's nominee for White House budget czar Killefer withdrew her nomination, reportedly over her failure to pay past unemployment taxes for household help.
Treasury Secretary Tim Geithner had earlier survived a controversy over his own unpaid taxes though his confirmation was delayed. He was eventually sworn in last week.
Obama tried to keep the focus on the economy as he named Republican Senator Judd Gregg as his commerce secretary.
"Our economy is shrinking, unemployment rolls are growing, businesses and families can't get credit, and small businesses can't secure the loans they need to create jobs and get their products to market," Obama said.
"With the stakes this high, we cannot afford to get trapped in the same old partisan gridlock."
The Senate meanwhile took up debate in earnest on the stimulus Bill, with Democratic leaders promising to give Republican amendments a full airing.
Republicans complain they were shut out in the House of Representatives, and did not offer Obama a single vote when the package was passed last week.
Obama's political strategist David Axelrod was on Capitol Hill Tuesday to lobby senators, and raised the prospect of small changes to the Bill.
"We want as many votes for this package as we can possibly get -- Republican, Democrat, but the key obviously is to pass it," he said.
"I think he's very pleased with the direction in which we're moving. Obviously there are going to be nips and tucks along the way."
But Senate Republican minority leader Mitch McConnell dug in for much bigger changes to the legislation.
"Everybody agrees that there ought to be a stimulus package, the question is, how big and what do we spend it on?" he said.
"The House Bill is an embarrassment, the Senate Bill on the floor is not markedly better, our goal will be to pare it down and to target it right at the problem."
A Gallup poll found that 38 per cent of those surveyed want the proposal passed as written, 37 per cent want "major changes" and 17 per cent want to see it defeated.
The manoeuverings on the stimulus Bill are consuming the Obama administration, so the focus on difficult confirmation fights is an unwelcome distraction.
Other Obama nominees like Secretary of State Hillary Clinton and Attorney General Eric Holder have sailed through confirmation votes despite early ethics questions.
Follow Emirates 24|7 on Google News.