Fired-up Obama urges US Senate stimulus vote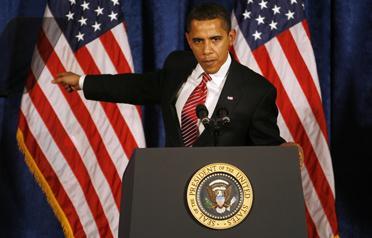 President Barack Obama fired searing attacks on Republicans as his Democratic allies warned they could muscle his 900-billion-dollar stimulus plan through the Senate on Friday.
"I would hope that we can complete this legislation tomorrow. I have hopes and I'm cautiously optimistic that we can do that," Democratic Senate Majority Leader Harry Reid told colleagues late Thursday as they wrapped up a fourth day of debate.
Reid said he was awaiting the result of behind-the-scenes efforts by a group of moderate senators from both parties to forge a deal to win votes from Republicans, whose leaders say the bill is bloated and needs more tax cuts.
The president rejected Republican complaints Thursday in a campaign-style attack.
Before a gathering of Democratic House of Representatives members in Virginia he delivered the most combative and partisan speech since taking office last month.
Americans had not voted for "false theories of the past and they didn't vote for phony arguments and petty politics," he said.
"They didn't vote for the status quo, they sent us here to bring change. We owe it to them to deliver," a fired-up Obama said.
"This is the moment for leadership that matches the great test of our times."
The president also rejected Republican arguments that the massive stimulus plan should be defeated because it will expand the budget deficit, which is already heading for more than one trillion dollars.
"I found this deficit when I showed up," Obama said, in a clear swipe at the administration of former president George W. Bush.
If Congress does not move swiftly to approve the stimulus package, Obama warned, "an economy that is already in crisis will be faced with catastrophe."
Earlier the president told lawmakers the "time for talk is over," with dismal unemployment figures released on Thursday and more expected Friday, reflecting the depth of the worst economic crisis since the 1930s.
"These numbers that we are seeing are sending an unmistakable message, and so are the American people," Obama said.
In a bid to bring the massive package to a vote, a bipartisan group of lawmakers was reportedly eyeing cuts, thought to run anywhere from 30 billion dollars to 100 billion.
The efforts were aimed at blunting Republican charges of wasteful spending, but in way that did not alienate Democrats.
"I know that everyone's trying in good faith to move this ball down the court, but I think we need tonight and some time tomorrow to see if we can do that," said Reid, whose Democrats have 58 of the 100 Senate seats.
But the Nevada lawmaker also warned Thursday that if "we find tomorrow that we're spinning our wheels," he would invoke a parliamentary procedure to cut off debate, setting the stage for a vote.
Senate passage would trigger a "conference" with the House of Representatives to craft a compromise between their rival bills, followed by a new round of voting in each chamber to send the final legislation to Obama -- who has set a mid-February deadline.
The Democratic majority voted down amendments seeking significantly deeper tax cuts and ramped up their attacks on Republicans calling for major reductions in the spending measures in the bill.
"Those who are talking about cutting massive amounts of money out of this bill are also cutting massive amounts of jobs," said Reid's deputy, Senator Richard Durbin.
Democrats piled pressure on Republicans to join them, a hard sell after not one Republican voted in favour last week when the House of Representatives approved its version.
Republicans charged that the measure had too much spending and too few tax cuts and that they had been shut out of the legislative process.
"Now is the time to act -- but it's not the time to act foolishly," said Senate Republican Minority Leader Mitch McConnell.
Follow Emirates 24|7 on Google News.