Gala costs $150m as Democrats forget frugality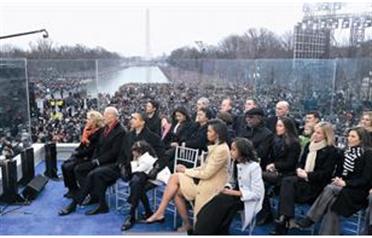 The price tag for President-elect Barack Obama's inauguration gala is expected to break records, with some estimates reaching as high as $150 million (Dh551m).

Despite the bleak economy, however, Democrats who called on President George W Bush to be frugal four years ago did not issue such demands for the inaugural weekend of concerts and star-studded parties.

The inaugural committee raised more than $41m to cover events ranging from a Philadelphia-to-Washington train ride to a megastar concert with Beyonce, U2 and Bruce Springsteen to 10 official inaugural balls. Add to that the massive costs of security and transportation – costs absorbed by taxpayers – and the historic inauguration will produce an equally historic bill.

In 2005, Reps Anthony Weiner, D-NY, and Jim McDermott, D-Wash, asked Bush to show a little less pomp and be a little more circumspect at his party.

"President Roosevelt held his 1945 inaugural at the White House, making a short speech and serving guests cold chicken salad and plain pound cake," the two lawmakers wrote in a letter. "During World War I, President Wilson did not have any parties at his 1917 inaugural, saying that such festivities would be undignified."

The thinking was that, with the nation at war, excessive celebration was inappropriate. Four years later, the nation is still at war. Unemployment has risen sharply. And Obama pressed Congress to release the second half of a $700bn bailout package in hopes of rescuing the banking industry.

Obama's inauguration committee says it is mindful of the times and is not worried people will see the four days of festivities as excessive. "That is probably not the way the country is going to be looking at it," said committee spokeswoman Linda Douglass. "It is not a celebration of an election. It is a celebration of our common values."

"Those at the Obama administration are trying to be reflective of the climate," McDermott's spokesman, Mike DeCeasar, said.

The festivities began on Saturday with a speech at Philadelphia's historic 30th Street train station as Obama's trip began.

Sunday's concert at the Lincoln Memorial included performances by Sheryl Crow, Stevie Wonder, Garth Brooks and others. Denzel Washington and Queen Latifah read historic passages. HBO paid $2.5m for the exclusive rights to broadcast the concert.

On Monday, the inaugural committee hosted a national day of service, followed by three "bipartisan dinners" and a concert at the Verizon Center honouring military families. The Disney Channel broadcast the concert, which included performances by teen stars Miley Cyrus and the Jonas Brothers, as part of a $2m deal that also gave ABC the exclusive rights to broadcast one inaugural ball. The deals allowed the committee to recoup about $5m of the $15m production costs for the televised events.

Obama has pledged transparency in his inauguration fundraising. He has disclosed inaugural donors as the fundraising continued, though he is not required to do so until after the ceremony. Many of the fundraisers are well-known moneymen and women in Democratic circles. Those leading the list raised at least $300,000.
Follow Emirates 24|7 on Google News.