Glenn Perry urges city to feel Haiti's pain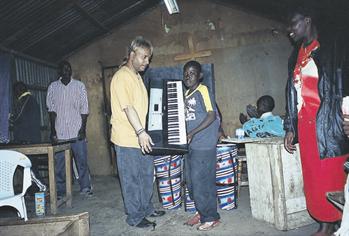 Dubai-based musician Glenn Perry, who recently held a concert in the city to raise money for the Haiti earthquake victims, is inviting people to participate in a walkathon that will be held at Zabeel Park at 4pm on Friday to raise more money for the cause through donations.

Glenn Perry tells Emirates Business: "The people of Dubai have always been very generous and I want them to come out with their family and friends and participate in this walkathon to raise funds for the victims of Haiti. I don't want people to forget about Haiti just because it is halfway across the world.

"You see, most of the time it happens that when a tragedy strikes a place, the whole world's attention is drawn to it for the first few weeks and then slowly but surely people start forgetting about it." In the first few weeks following a disaster, he says, victims are flooded with aid and then once the media goes away, and aid workers return home, they suffer for years on end with no help forthcoming.

"I know this, because I have been to almost each and every area which has been hit by disaster and I have seen firsthand how the people suffer after the media hype has died down,"?he says. "I have seen how the victims who were promised houses by their governments after a disaster continue to live in tattered makeshift settlements for years because they were not given the promised house.

"I have seen babies go without food for days on end because the parents don't have the money to feed the kids as they still have not got the money or the jobs they were promised by their governments. I have seen the looting and the rioting that happens over relief material and I have seen the aid being misused by unscrupulous people."

Always ready to help the disaster-struck, Perry has been to the Philippines after the floods, to Sri Lanka, India after the tsunami and to Pakistan after a major earthquake and also to Indonesia.

But it isn't just disasters that draw him in. In Kenya, for example, he has been helping orphans, providing food, medical supplies and even musical instruments to give them a chance at a future.

"I know the terror people go through after a major earthquake,"?he continues, describing how there can be as many as 50 aftershocks every day following a major earthquake. "People run out screaming in terror. There is always the danger of them getting buried alive as the buildings that have survived a major quake can collapse anytime,"?he says.

"You can't sleep at night out of fear of the aftershocks as your bed moves around like crazy during the aftershocks and you get tossed around. Plus, there is the danger of rioting and the looting of the aid as people are desperate to get the food and clothes, medicines etc and will do anything to get them."

But Perry says he does not believe governments should use security forces to stem the looting, but must instead realise the desperation facing people who have lost everything in a few seconds.

"As it is they are frightened and traumatised and firing on hungry and naked people is inhuman, no matter what the provocation,"?he says, adding that there is always the danger of epidemics spreading due to the lack of basics such as clean drinking water and poor sanitation.

Perry says he just cannot stay away from a disaster-hit area, no matter how dangerous it is because he cannot rest till he does his bit to help the people.

After the disaster in Haiti, he would wake up in the middle of the night thinking about how people there were suffering. He says he knew he had to do something to help those poor souls or he would not be able to rest.

"That is why I decided to hold the concert to raise money and awareness for the cause and now I am getting this walkathon organised so that more funds can come in. I want people to come and bring their friends and donate generously for the cause,"?he says.

Perry got involved in social work after his father, Chris Perry, who was also a jazz singer, died in 2002 following a long battle with Parkinson's disease. Perry was very close to his father and held his first concert with his dad at the tender age of five.

After Chris Perry died, Glenn Perry paid tribute to his father by releasing a jazz album, Reincarnation in his memory. However, his loss also made him more sensitive to other people's suffering and he became devoted to doing charity work.  

Talking about the life-changing experience Perry says: "I was a well-established singer at that time and had all the money in the world but I could not help my father. My whole life changed after that. I became more sensitive to suffering than ever before. I am a Christian who has been brought up by a very pious mother so I always used to give a lot of money for charity. But after my dad died I became more deeply involved and now I give my time and serve the people myself. I like to go down to a disaster-hit area and work independently and quietly to help the people.

'There is always so much to do after a disaster and now I plan to go to Haiti as I will not be able to rest until I don't do my bit to mitigate their suffering as best as I can."


- Glenn Perry's Walkathon begins at 4.30pm on?Friday, February 5 at Zabeel Park. Those who wish to participate should register at 3.30pm on the same day at Gate 3.
Keep up with the latest business news from the region with the Emirates Business 24|7 daily newsletter. To subscribe to the newsletter, please click here.
Follow Emirates 24|7 on Google News.