Guadeloupe talks on as Sarkozy aims to quell unrest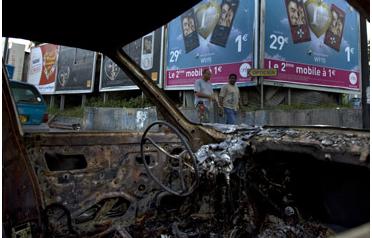 But Elie Domota, leader of a coalition of unions and leftist groups that launched the strike on January 20, did not call off the strike after French President Nicolas Sarkozy offered millions of euros in new subsidies.
"At the moment, the proposals seem particularly vague to us," Domota said after meeting with the island's prefect, Nicolas Desforges, and two French government envoys.
Domota, leader of the Collective Against Exploitation (LKP) coalition, said negotiations that had been officially suspended for a week would resume Friday at 1900 GMT.
A Domota confidant, Jean-Louis Nomertin, was not impressed by Sarkozy's offer. "Nicolas Sarkozy did not say anything," he said.
Sarkozy announced earlier more than half a billion euros in new subsidies for the Caribbean island, a tourist destination that suffers from the highest unemployment rates and most expensive living costs in France.
"Today we have a duty to listen to our fellow citizens and we have, at the same time, the duty to ensure the rapid return of civil order," he said after holding crisis talks in Paris with lawmakers from the Caribbean.
He promised to fly to Guadeloupe to inaugurate a three-month exercise to gather opinions on how to reform mainland France's relations with its overseas departments, former imperial outposts that now enjoy full political rights.
Sarkozy said €580 million euros ($736 million; Dh2.7 trillion) would be put aside for action to raise living standards in the overseas departments.
Prime Minister Francois Fillon said Paris would make support payments to low wage earners totalling almost €200 ($250) per month, as demanded by unions.
Shots were fired at security forces during a third straight night of riots and police confronted gangs of youths who looted stores and ransacked the town hall in Sainte-Rose on the north coast.
Hundreds of police reinforcements have been deployed from mainland France to Guadeloupe after a labour activist was shot dead late Tuesday near a barricade in Pointe-a-Pitre, the island's biggest town and economic hub.
Thousands of people marched peacefully Thursday in the island's main city Point-a-Pitre in memory of the activist, Jacques Bino, whose killing Sarkozy denounced as an "assassination."
Police arrested 39 people overnight Wednesday to Thursday, some of whom were carrying weapons, said an official from the local administration.
Five stores, two restaurants and a car dealership were torched while police were ferried by helicopter to Sainte-Rose to end a looting rampage.
Local officials said five shotgun rounds were fired at security forces at Gosier, near Pointe-a-Pitre. No one was wounded but the police withdrew.
The conflict has exposed race and class divisions on the island, where the local white elite wields power over the black majority.
The economy is largely in the hands of the "Bekes," the local name for whites who are mostly descendants of colonial landlords and sugar plantation slave owners of the 17th and 18th centuries.
Up to 10,000 people held a protest in the neighbouring French island of Martinique, where unions also launched a strike on February 5. Most shops, cafes, banks, schools and government offices have been shut and the strike has hit the key tourism industry.
Follow Emirates 24|7 on Google News.
Strike leaders in Guadeloupe agreed on Thursday to resume negotiations after an offer from the French president aimed at ending weeks of protests on the Caribbean island.