Guantanamo 'well-run,' but to close: US law chief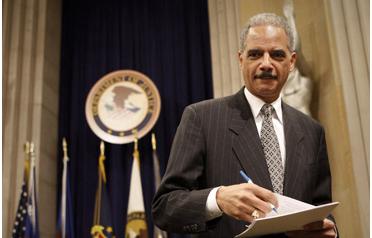 Holder is leading the administration's effort to close the US detention center for terrorism suspects at Guantanamo Bay, Cuba, and visited the camp on Monday. He told reporters on Wednesday he saw nothing to support allegations by a human rights lawyer that abuses by guards had increased since President Barack Obama's inauguration in January.
"I was impressed by the people who are presently running the camp," Holder said. "I think the facilities there are good ones."
But he added, "It does not in any way decrease our determination to close the facility, even though ... it is being well-run now."
Oklahoma Sen Jim Inhofe, a senior Republican on the Senate Armed Services Committee, said he was pleased to hear Holder's "glowing report" about conditions at the detention center and that the attorney general understood closing it would not be an easy process.
"I believe as more time goes by, there is a chance the administration will grow to realize that we need Gitmo and must keep it open. More time will allow facts to replace political rhetoric," Inhofe said in a statement.
Obama in January ordered the closure of the detention complex, which houses about 250 terrorism suspects and others in a camp and maximum-security facilities at the Guantanamo US naval base. Inmates have been held as long as seven years without charges. Accusations that prisoners have been abused to the point of torture have spurred wide condemnation of the United States.
Obama's top intelligence official, Director of National Intelligence Admiral Dennis Blair, told Congress on Wednesday that Guantanamo had become a foreign policy and security liability, making allies reluctant to participate in counterterrorism policies because of the camp's image.
Some Republicans on the House Intelligence Committee told Blair they were unconvinced of the need to close Guantanamo and that any decision to house inmates in the United States could increase the threat of attacks on the country.
A human rights lawyer who represents Guantanamo detainees, Ahmed Ghappour, said in London this week that prisoner abuse had worsened since Obama took office, as guards "get their kicks in" before the camp is closed.
A US military review begun in January of Guantanamo conditions concluded that inmate treatment met Geneva Conventions standards. But the report's author, Admiral Patrick Walsh, said 14 allegations of guard misconduct had been substantiated, including "disrespect" and "pre-emptive use of pepper spray."
Holder said he had seen the military report. "I did not witness any mistreatment of prisoners. I think, to the contrary, what I saw was a very conscious attempt for these guards to conduct themselves in an appropriate way," he said. 
Follow Emirates 24|7 on Google News.
The Guantanamo prison is "well-run now," with no signs of inmate mistreatment, but the Obama administration remains determined to close it, Attorney General Eric Holder said on Wednesday after a visit this week.