Haiti quake rescuers keep hoping against hope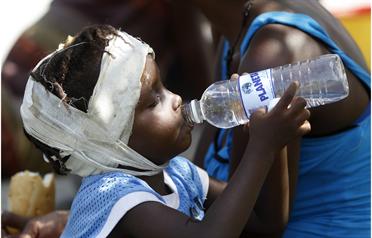 Refusing to give up hope as they race against time and terrifying aftershocks, rescue teams scouring Haiti's earthquake-hit capital are rewarded with small miracles.
Two children were pulled from the wreckage of collapsed buildings in Port-au-Prince on Wednesday, eight full days after disaster laid waste to the city with the loss of at 75,000 lives.
The situation took a dramatic new turn before dawn on Wednesday when a fresh 6.1-magnitude tremor shook Port-au-Prince, making several houses collapse and shifting the structures on several search sites.
"The aftershock could have made the structures subside, but it might have also freed people trapped between two pieces of concrete," said French firefighter Gilles Perroux.
To make sure they are not missing anyone, the rescuers scan the streets, ask local people if they have heard signs of life and make final checks in the ruins of popular gathering places -- schools, churches, cafes and restaurants.
In one college in Port-au-Prince, French civil security rescuers believe they have found someone.
Sniffer dogs and radar have detected something around 4.5 meters (yards) down, and they use a jackhammer to smash through the concrete and pass through a camera which will confirm if there are any survivors or not.
"Tonight, the rescue team has potentially found a survival pocket. The dogs have marked it. There is something moving, though we don't know what," said French rescuer Fabrice Montagne.
"On the eighth day, is anyone alive? We believe, or else we would not be here. While we are in the country we will stay hopeful."
Chances of finding survivors so long after an earthquake are small.
But victims can still pull through if they are not too badly wounded, if they have found an air pocket and if they have something to eat or drink.
A five-year-old boy was pulled alive on Wednesday from the wreckage of his home in Port-au-Prince, while neighbors dragged out an 11-year-old girl from under rubble in another part of the city.
"It truly is a miracle, she came back to life bit by bit. She is blessed by the gods," said Dominique Jean, a surgeon working at a field hospital set up by French aid groups.
On Tuesday, three survivors were found including a 25-year-old woman trapped in a supermarket, a 70-year-old woman who sang as she was brought from the wreckage of Port-au-Prince cathedral and a three-week-old baby.
A UN spokeswoman in Geneva said earlier Wednesday that international teams had rescued 121 people from the debris of collapsed buildings
In another part of Port-au-Prince, Taiwanese and Mexican teams were trying to extract more survivors discovered by sniffer dogs.
"Yesterday, a professor who worked here told us that around 20 or 30 people were buried and that some could still be alive. The dogs pointed out two places which are very deep," said Taiwanese doctor Yaw-Wen Chang.
Wednesday's aftershock shifted the mass of metal and concrete.
"But we'll have to see what has happened between yesterday and today," said Mexican rescuer Arturo Acuna.
Under the ruins of the Planet Cafe in the Haitian capital, other French rescuers were packing up their equipment -- the radar had detected movement but the camera did not confirm it.
"It seems there wasn't anyone. I would prefer to talk conditionally because you never know for sure," said Bruno Jean-Elie before climbing into his truck.
"We'll keep exploring the sites and check any buildings which catch our eye," he said.
Meanwhile makeshift hospitals were still struggling to treat the tens of thousands of people who were injured in the quake.
"We carried out 30 operations on Tuesday. In the previous six days we have cared for more than 1,000 Haitians," said French doctor Thierry Allafort Duverger in the upscale suburb of Petionville.
The clinic normally carries out plastic surgery procedures for the well-off inhabitants of the district, but is now one of 30 special public hospitals set up to care for earthquake victims.
Three-year-old Schnaidi lies in the clinic, with stitches all over her body and severe head wounds swathed in a white bandage that also covers part of her eye.
"The house fell on her," says her mother, also seriously injured.
Keep up with the latest business news from the region with the Emirates Business 24|7 daily newsletter. To subscribe to the newsletter, please click here.
Follow Emirates 24|7 on Google News.