Hollywood North readies for Bollywood West role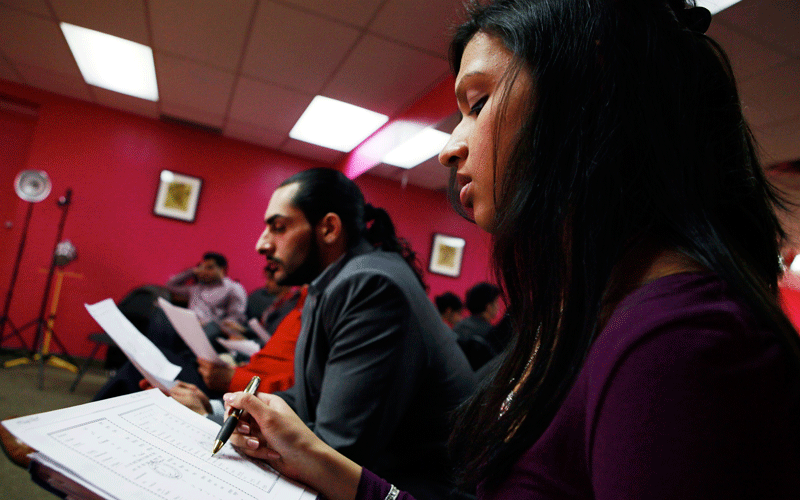 Hollywood North is auditioning for the role of Bollywood West.
The first known government-backed Bollywood acting school in North America has opened in Canada's largest city and its creator is hoping to capitalise on the region's booming South Asian population.
"Here, I'm opening the doors of Bollywood and Hollywood together," said Lucky Sanda, program director of the Bollywood acting diploma program at the Canadian Institute of Management and Technology.
The first group of Bollywood students will graduate in April from the college, which also offers diplomas in a series of business and technology programs.
Sanda, 46, said production companies in Toronto want South Asian actors in their TV ads and films to represent the changing population and have already been contacting him.
"The demand is there, we just have to create the supply," he explained.
The South Asian population is the most visible minority group in the greater Toronto area, which has a population of 5.5 million people.
"Canada is known as Hollywood North, which we all know, but I want to make this Bollywood West," said Sanda, whose family is involved in the Bollywood industry.
A former child actor, Sanda appeared in more than a dozen Bollywood films including "Do Anjaane" and "Mein Tulsi Tere Angan Ki". Since emigrating from India in 1992 he has seen a lot of South Asian talent in Canada.
"There is so much South Asian talent but no platform available to them," he said.
A Bollywood West industry would help Canada subsidize lost business from Hollywood films due to the high Canadian dollar and counter California's push to keep film production in the U.S.
CHANCE TO BE A STAR
For Sanda's students, who range in age from 18 to 48, the program is a chance to be a Bollywood star.
Canadian-born Nav Mand, one of the program's first 11 students, sees it as an opportunity to embrace his culture while chasing his dreams without going to India.
"What makes me different from a lot of my classmates is I never grew up watching Bollywood films, I actually grew up watching Hollywood films," said
Mand, a 25-year-old personal trainer whose dream is to become a successful actor.
"I'm one of the people in the class who have a hard time speaking Hindi but the culture is the same. I can relate to those movies."
For others, it's a chance to make up for missed opportunities. Hassan (Jesse) Lakhani, 39, wanted to be an actor but family obligations prevented him.
"Finally I want to fulfill that dream," he said.
Nitin Patel, a 48-year-old civil engineer from Mumbai, has already had roles in Indian and Canadian theatre, as well as Hollywood films and commercials. He was given a government grant to attend the school.
"This was a step further," Patel said.
Other students see the program as a way to break into the industry and to open the doors to Hollywood.
Maya Noel, 18, from Dubai, is one of four women in the class.
"I'm leaning towards Bollywood at the moment but if I find work here or in Hollywood I'm not going to say no because my ultimate goal is to become an actor."
Students must audition for the 16-week diploma program, which costs C$9,000 for Canadians and C$13,000 for international students, and is approved by Ontario's Ministry of Training Colleges and Universities.
The graduates are guaranteed membership in the Senior Artists Association in Mumbai, as well as an optional tour of that city's film industry.
With Toronto playing host to the International Indian Film Academy Awards, which have been dubbed the Bollywood Oscars, in June of 2011, Sanda plans to connect his students with some of the best of Bollywood.
He has also brought over acting trainer Kishore Namit Kapoor who has his own KNK Acting Institute in Mumbai.
"There could be a possibility of parallel industry here," said Kapoor, 60, who has appeared in films including "Kranti", "Ashanti" and "Sun Sajna".
"I can see there's a huge market here and lots of people are enthusiastic and passionate," he said. "I see some future stars here."
Follow Emirates 24|7 on Google News.