IBM cutting about 2,800 jobs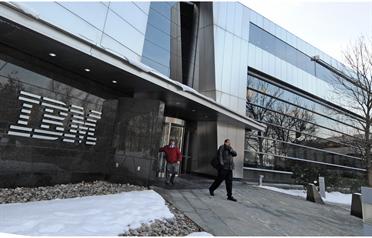 IBM, the world's biggest technology services company, is cutting about 2,800 jobs in North America, according to documents supplied by a union seeking to represent the company's employees.
International Business Machines Corp spokesman Doug Shelton confirmed on Monday that the company last week informed some employees that their positions were being eliminated. But he declined to say how many were being cut.
IBM's move came as companies in the United States and Europe announced tens of thousands of layoffs on Monday.
The job cuts at IBM were evenly split between its software division and its sales and distribution unit, according to Lee Conrad, national coordinator for the Alliance at IBM. His group is a local chapter of the Communications Workers of America that is seeking to represent IBM's employees.
Conrad added that he expects further layoffs to be announced, this time at IBM's hardware division.
Shelton declined to say which business divisions were cutting jobs. He added that the company regularly eliminates some jobs and adds new ones as business needs change.
The Armonk, New York-based company -- which is the world's No. 2 maker of software and biggest manufacturer of mainframe computers -- employed nearly 400,000 workers at the end of December, up from about 386,000 a year earlier.
"The nature of our business is such that we must constantly assess employee skills and resources, at any given time, to give IBM the flexibility to match the current and future needs of our clients," Shelton said.
"Managing talent in this way keeps IBM competitive, which we know is very important -- especially when the economy is in a downturn," he added.
Laid off workers were given 30 to 90 days notice, were encouraged to apply for other jobs within IBM, and will be granted severance packages upon leaving the company, Shelton said.  
Workers will receive one week of pay for each six months of service with IBM, up to a maximum of 26 weeks of salary, according to one of the documents provided by Conrad.
Shelton declined to discuss details of the severance packages. 
Follow Emirates 24|7 on Google News.