Japan PM arrives in US as Obama's first guest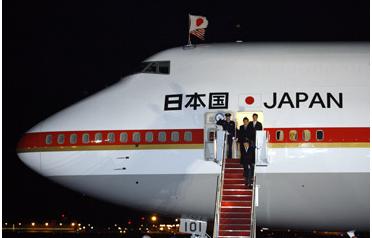 The leaders of the world's two largest economies are expected to look at joint action to fight the global slowdown, as both Tokyo and Washington push through multibillion-dollar stimulus plans.
But experts said Aso's less than 24-hour visit was primarily symbolic – aimed at easing Tokyo's worries that the new US administration would care more about a rising China than its longstanding regional ally Japan.
Aso arrived in Washington late Monday and to meet the next day with Obama, hours before the US leader gives his closely watched first address to a joint session of Congress.
"We highly appreciate the new administration's indication of the importance of our alliance being the cornerstone of American foreign policy," Japanese foreign ministry press secretary Kazuo Kodama said.
"Our leaders are able to show to the world that the first and second largest economic powers will together address the most pressing issue of the day, that is, the financial and economic crisis."
But he said Aso may also voice displeasure about a "Buy American" clause in the new US economic stimulus package.
"Prime Minister Aso will say that Japan will resolutely fight all protectionism," Kodama said.
Under pressure from Obama and foreign trading partners, Congress watered down the clause intended to give US-manufactured goods priority in infrastructure projects.
Japan had mostly warm relations with former president George W Bush, but the alliance saw hiccups last year when Bush removed North Korea from a blacklist of state sponsors of terrorism as part of a denuclearization pact.
Japan had opposed the move, saying North Korea had not yet come clean on the fate of Japanese civilians it abducted in the 1970s and 1980s to train the communist regime's spies in Japanese language and culture.
Some Japanese policymakers feared the chill would worsen, saying the United States – after its "Japan-bashing" of the 1980s, when Tokyo's economic clout was at its pinnacle – had now turned to "Japan-passing."
Fueling the fears, Secretary of State Hillary Clinton as a presidential candidate had said that the United States and China will have "the most important bilateral relationship in the world in this century."
But Clinton last week traveled to Japan as her first foreign destination, where she announced the invitation to Aso.
"The administration understands the first thing you have to do when you come into office is to reassure the allies and that's exactly what they're doing," said Ralph Cossa, head of the Pacific Forum of the Center for Strategic and International Studies.
Cossa said Japanese policymakers with whom he has spoken "were all extremely delighted and relieved as they had been very nervous."
Aso is likely hoping that the summit can provide him with a domestic bounce as he must call high-risk general elections by September.
The conservative leader's approval rating plummeted to single digits in one recent poll after his finance minister appeared drunk at a major international meeting, reinforcing public concerns about the government's handling of Japan's worsening recession.
Analysts said Obama was reaching out to Japan as a nation and not personally to Aso, whose long-ruling Liberal Democratic Party could suffer a historic defeat in the upcoming election.
World leaders have been eager to meet with Obama, who enjoys high popularity at home and overseas.
Obama last week visited Canada on his first foreign trip as president and next week will welcome British Prime Minister Gordon Brown at the White House.
Follow Emirates 24|7 on Google News.
Japanese Prime Minister Taro Aso arrived in Washington on Monday to be the first foreign guest of US President Barack Obama, who is moving quickly to undo a recent chill with the key Asian ally.