Joe Frazier biopic casts Ali in poor light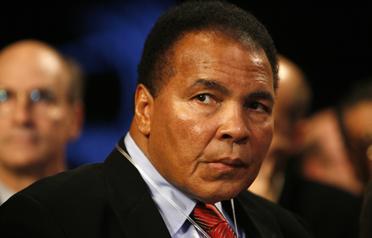 Sports fans of a certain age remember the "Thriller in Manila", the third heavyweight championship fight between Muhammad Ali and Joe Frazier in 1975, as one of boxing's epic battles. Now a documentary sets out to challenge that legend – not that it wasn't a great fight, but that Ali was a hero and all-around good guy, as he proclaimed himself, and Frazier was an ignorant Uncle Tom, as Ali also proclaimed.
It's a fascinating story of sports and race, told for the first time from Frazier's perspective. Thriller, which premiered at the Sundance Film Festival, should be a hit for HBO when it premieres in April.
This quintessential American story was made by a British outfit and directed by veteran documentarian John Dower. The film makes no pretense of objectivity – it's clearly in Frazier's corner – but at times it seems to inflate its case for dramatic effect. Calling it the "most eagerly anticipated fight in the history of boxing'' might be stretching the point, but there is no denying it was an event.
Ali and Frazier, friends early in their careers, had fallen into a bitter rivalry that gave the fight the feel of a grudge match. Interviews with those close to Frazier, including his brother and son, suggest how close the fighters were and Frazier's generosity when Ali lost his boxing license for three years because he was a conscientious objector to the Vietnam War.
But Ali's tone changed when they entered the ring for their three epic fights, and he went after Frazier with increasingly aggressive attacks, culminating in ugly race-baiting surrounding the final battle. History tends to be told by the winners, and everyone remembers Ali as a noble warrior -- but few remember the other guy, which the film hopes to remedy.
Perhaps to promote the fight, or himself, Ali portrayed himself as the real black man and Frazier as a slave of the white world. Carrying it a step further, he characterized Frazier as a gorilla and tormented him at every chance. Among this film's excellent archival footage is a clip from a talk show in which the two men attack each other physically. Frazier's deep-seated bitterness toward Ali was not merely an act for the cameras.
Even today, interviewed in the inner-city Philadelphia gym where he trained for the fight, Frazier is smoldering (his moniker was, after all, Smokin' Joe). In a broad-brimmed hat and lime-green leather jacket, Frazier is nothing if not colorful, and the film makes his case convincingly, if repetitively. Among other things, it suggests that Ali's pugnacious act was orchestrated by his church, the Nation of Islam.
With emotions so high, there is barely a dull moment. Dower has assembled a lively bunch of talking heads, including Ali's ring doctor, who repeatedly tells the interviewer he is asking dumb questions. There also is extensive footage of the fight, and the film's most moving moment is Frazier watching it for the first time since he was in the ring.
He wasn't victorious then, but in Thriller, Frazier finally wins his personal battle after 34 years.
Follow Emirates 24|7 on Google News.