Labour unrest spreads to Martinique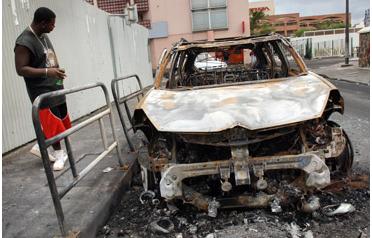 According to police headquarters, nearly 30 people were detained on Wednesday following the outburst in Fort-de-France, the French island's chief city.
Dozens of protesters gathered at city hall on Tuesday night to demand results from slow-moving negotiations there over demands for pay increases. Around midnight, some began hurling rocks and bottles at police guarding the building, and officers responded by firing tear gas.
Protesters burned at least five cars, several garbage bins and a small grocery store. 
Follow Emirates 24|7 on Google News.
French police officers are patrolling Martinique's capital after vandals burned cars and looted stores overnight as protests over high prices, low pay and alleged neglect by officials in Paris spread to a second Caribbean island.