Madoff expected to plead guilty to fraud charges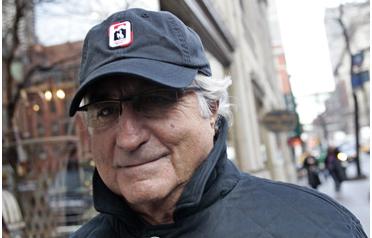 A court document signed on Friday by prosecutors and Madoff's lead attorney indicated the once-respected Wall Street trader and investment manager would waive an indictment and plead guilty to criminal charges.
A March 12 hearing was scheduled for Madoff to appear in court for arraignment on the charges, said a clerk for Judge Denny Chin in US District Court in Manhattan.
Defendants enter a plea of guilty or not guilty at arraignments. Madoff, who authorities said confessed to his scheme in December, has not formally answered any charges.
Madoff is under house arrest. He is also is set to appear at a March 10 hearing on a potential conflict of interest involving his main lawyer, Ira Sorkin.
Legal experts said all signs indicate that a guilty plea has been negotiated in what authorities have called the biggest Ponzi scheme in Wall Street history. The purported swindle ran for decades but collapsed in last year's market meltdown.
In a separate court document filed on Friday, the government asked the judge to require notice of one day before the "plea proceeding scheduled for March 12 from potential victims who wish to be heard during that proceeding."
In Washington on Friday, the agency established by Congress to help investors in failed brokerages, including Madoff's firm, said it had sent out the first checks to his former customers.
The Securities Investor Protection Corp said it had sent four checks, but no amounts were disclosed. Investors are eligible to receive up to $500,000 from SIPC. The deadline for claims is July 2.
Madoff's lawyers and the US Attorney's Office in Manhattan declined to comment directly on any plea deal.
"This is the first step in order to enter a plea agreement," said Peter Henning, a professor at Wayne State University Law School in Detroit and a former federal prosecutor.
Prosecutors charged and arrested Madoff on December 11 after the FBI said he confessed to running a "giant Ponzi scheme" with $50 billion in losses over many years. A Ponzi scheme is one in which early investors are paid with the money of new clients.
OTHERS INVOLVED?
One legal expert said it is likely that any plea deal would include Madoff's agreement to cooperate with the government's investigation into the purported swindle, which bilked banks, wealthy clients, small investors and charities worldwide.
If other people were ultimately charged and put on trial, Madoff's sentencing could be delayed until those cases were resolved, legal experts said.
No one else has been charged, but few believe that Madoff could have carried out a complex scheme on his own.
"Federal conspiracy law can reach far and wide, and undoubtedly the government is going to be looking to charge a conspiracy," said Bradley Simon, a white-collar criminal defense attorney not involved in the Madoff case.
Madoff was charged in December with one count of securities fraud and faces up to 20 years in jail.
The 70-year-old could spend the rest of his life in prison. In the meantime, he is out on $10 million bail and under house arrest in his $7 million New York apartment with 24-hour surveillance.
Madoff's assets and those of his firm, Bernard L. Madoff Investment Securities LLC, have been frozen by court order as a trustee works to recover money for former customers. Less than $1 billion has been recovered so far.
The Madoff scandal has been one of the biggest white-collar criminal cases in recent memory. His clients included numerous celebrities, according to court documents. Investors say he lured them through his reputation for posting amazingly consistent returns that prosecutors now say were fiction.
If Madoff pleaded guilty, that would not put an end to the wave of private litigation stemming from the scandal.
Besides the March 12 hearing, he is also to appear in court on Tuesday before the same judge to address a potential conflict involving his lawyer. Madoff must tell the judge at that hearing that he is aware that 17 years ago his lawyer Sorkin represented two accountants who invested with Madoff in a civil case that was settled.
The case is USA v Madoff 08-mj-02735 in US District Court in the Southern District of New York (Manhattan). 
Follow Emirates 24|7 on Google News.
Bernard Madoff, accused mastermind of a $50 billion (Dh184 billion) investment fraud, is expected to plead guilty to criminal charges next week, three months after his arrest shocked his customers worldwide.