Obama gears up for new challenges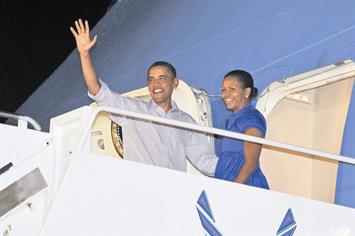 US President Barack Obama wrapped up his Hawaiian vacation and headed back yesterday to Washington, where he will have to grapple with fears of a terror attack and Iran's nuclear defiance.

Challenges facing the White House in 2009 – including the worst economic meltdown in 70 years – look likely to be trumped by the building crises threatening to rage through 2010.

Hyper-partisan politics will get even more nasty, with Republicans targeting gains in mid-term elections in November – which normally wound first-term presidents – and Democrats defending their grip on Congress at all costs.

The thwarted Christmas Day attack on a US airliner reintroduced the terrifying and polarising spectre of terrorism into American life, just as a wary normality was easing memories of the September 11 attacks in 2001.

Criticism of Obama's handling of the attack is likely to complicate his task of enacting an ambitious domestic programme. He will attempt to address what he says are "systemic" US failures over the episode by meeting spy chiefs today.

Obama's plan to close the Guantanamo Bay camp, already set to miss a one-year deadline, looks in deep peril: nearly half of the remaining 198 detainees are from Yemen, where the Christmas Day attack was planned.

Yemen, with its building Al-Qaeda presence is a widening front for US forces in the global anti-terror struggle, along with Pakistan and Afghanistan. Iran, beset by its own political turmoil, is meanwhile escalating the showdown over its nuclear programme, with Washington seeking tougher sanctions.

Tehran last year spurned Obama's engagement push – leading the president's foes to brand him as naive.
Keep up with the latest business news from the region with the Emirates Business 24|7 daily newsletter. To subscribe to the newsletter, please click here.
Follow Emirates 24|7 on Google News.