Obama mania hits fever pitch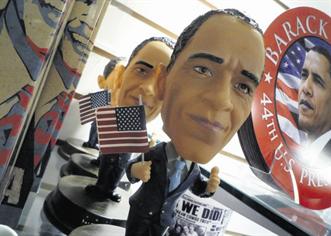 While you're reading this, 100-plus Secret Service agents, 12,500 troops, thousands of police, as well as personnel from 57 departments across the United States are probably running a final security check for the most expensive presidential inauguration ever – $150 million (Dh551m) at the last tally.

As President-elect Barack Oba-ma readies to fulfill his role as the Commander-in-Chief of the US, and move into the most heavily guarded home in the world – the White House for those who have not caught on – the capital, Washington DC, is gripped by a festive frenzy with parties, concerts, cook-outs and endless gridlock.

We Are One: The Obama Inaugural Celebration at the Lincoln Memorial kicks off tomorrow with a concert line-up that reads like a who's who list of music greats: The Boss, Bono, Beyoncé, Shakira, John Legend, Usher, Mary J Blige, Stevie Wonder, Garth Brooks… the list goes on. Aside from the music, there will be a series of historical readings by actors Jamie Foxx, Denzel Washington and Queen Latifah, along with Martin Luther King III and Obama himself.

The fever pitch will increase in tempo on Tuesday when Obama is sworn in to the background music of Aretha Franklin, Jonas Brothers, Yo-Yo Mama and many others.

And while America parties, the world joins in – including Dubai.

"We are having our own little party at the Dubai Marina Yacht Club, a black-tie affair that is open to anyone who has an opinion of US politics," Democrats Abroad Chairman, Chris Hansen, 33, tells Emirates Business.

Affiliated to Obama's political party, the group raised $85,000 last year in Dubai for the presidential campaign. Tuesday night's event is in collaboration with the American Business Council.

"The evening will kick off with a cocktail hour, followed by dinner after which the inauguration will air at 9pm UAE time," says Hansen. "We are expecting a full house on the night."

Head down Sheikh Zayed Road, and the American Ambassador to the UAE is hosting a private event of his own at his residence, said an embassy spokesperson.

But that's about it. Many UAE-based Americans are expecting a low-key celebration due to the ongoing attacks in Gaza.

"Of course the situation in the Middle East is extremely volatile at present, but this event marks a new era of hope for the world," says Patricia Palmer. The Dubai-based American entrepreneur who runs ArtWorks, an arts and consultancy firm, with her husband, is also heading down to the party at Dubai Marina on Tuesday.

But unlike Hansen and Palmer, news presenter Phil Wellman, 25, will not be putting on a party hat on the night. "I will probably be at work, and quite frankly, the handful of Americans I know in Dubai aren't celebrating either. I don't see a strong sense of community amongst US citizens in Dubai."

Back in DC, however, the picture couldn't be more different. IT consultant Levi Daniels is not ashamed to admit that Obama-mania (or Obamapalooza as the Christian Science Monitor calls it) has him firmly in its grip.

"The city is alive at present, with hundreds of different groups and charity organisations making their way down here," he says. "The clubs are open till 4am, while a gala affair or a ball seems to be springing up at every street corner."

An African-American himself, this event is a particularly emotional time for Daniels, 25, and his family who are flying to DC from other US states, especially for the event.

"We are planning to head down there on Tuesday, but I doubt we'll get very far. The rest of us are planning a barbecue at home and party on well after the inauguration."

More than two million visitors are anticipated to descend on the US capital, starting today – a security nightmare for those protecting the country's first black president.

The military is expected to launch air patrols, set alerts for surface-to-air weapon systems, guard the Potomac River with armed boats, protect the masses from chemical and biological threats, organise medical support in case of an attack, and provide visible and undercover ground security.

By Tuesday Obama's presidential limousine, a massive Cadillac, will be ready to withstand a rocket-propelled grenade, should the need ever arise.

Meanwhile tickets for the inauguration are changing hands at $40,000 and rising. The government issued 250,000 tickets for the event, but middlemen who have bought in bulk are selling them on eBay.com for ridiculous figures.


Plan your own Inauguration party

Can't make it to the biggest presidential inauguration the world has seen? Then let the party come to you. Here's how:

- Head down to the Party Store in Garhoud to grab your party hats and streamers. If you can't find one with the American colours, red, white and blue, opt for a plain one

- Take cut-outs of of Obama's picture and stick on your hats or make a badge of honour to pin on your T-shirt

- Head to the T-shirt Factory in the Mall of the Emirates and have Obama's picture or the US flag imprinted on a few to pass around at the party

- On Tuesday, bake your own cupcakes, or grab some from the nearest bakery and add red, white and blue icing for added effect

- Log on to iTunes to access the playlist, Songs About Obama. If that is too much hassle, simply pop in a CD of Bruce Springsteen or Bon Jovi for that all-American sound

- Until the inauguration kicks off, hook up a piñata with a certain 'someone's' picture on it and let the shoes flys


Tune into Obama

If you want to catch the inauguration live on TV in the UAE, here is how:

Showtime: Viewers can catch wall-to-wall coverage on CNN and Fox on Tuesday. CNN's coverage will start at 2pm, leading up to Obama's inaugural address at 9pm.

Star TV Middle East: Fox News will provide live continuous coverage of inauguration day beginning 3pm on Tuesday. The coverage will continue until the inaugural ball at 10am on Wednesday.
Follow Emirates 24|7 on Google News.