Obama seeks Republican support for stimulus plans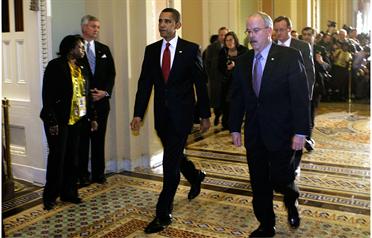 US President Barack Obama struggled on Tuesday to placate Republicans in Congress who insist his $825 billion plan for reviving the troubled US economy should include bigger tax cuts and less spending.
"The key right now is to make sure that we keep politics to a minimum," said the president, who met Republicans in both houses of Congress a week after taking office on a promise to seek consensus and end partisan gridlock.
Republicans described the meetings as cordial and said they appreciated Obama's willingness to listen but there was scant evidence he had persuaded many of them to back the measure.
Shortly before Obama arrived, House Minority Leader John Boehner told fellow Republicans that in its current form, he could not vote for the stimulus and encouraged fellow House Republicans to vote against it, his spokesman said.
The House of Representatives plans to vote on the stimulus on Wednesday.
Pressed on whether Obama expected to get more than a dozen or so Republican votes in the House, White House spokesman Robert Gibbs said: "We'll take what we can get."
Obama told the legislators he understood that some of them might not support the measure but he said it still was important to have the discussion.
"He said ... I understand that some of you aren't going to vote for this," Gibbs said. "That's fine. But what ... he wants people to do is have an exchange of those ideas."
CONSERVATIVE DEMOCRATS' CONCERNS
Meanwhile, a bloc of conservative Democrats won a commitment from the White House for efforts to balance the budget, enabling many of them to support the stimulus plan.
In a letter to Congress, Obama budget director Peter Orszag said the government must eventually get back to paying for non-emergency spending without boosting the deficit. The letter appeared to win over many of the conservative Democrats.
Regardless of how many Republicans embrace it, the stimulus package is expected to clear both the Democratic-led House and Senate by the middle of February.
Even so, Obama wants the political cover that some support from the opposition party would bring for an unproven plan that will hugely increase America's budget deficit and may or may not halt the economy's downward slide.
The new president faces an economic crisis that seems to worsen by the day. Consumer confidence has slipped to a record low and major US companies are cutting tens of thousands of jobs as troubles mount in the financial industry.
"The main message I have is that the statistics every day underscore the urgency of the economic situation," Obama said. "The American people expect action."
Republicans complain that Obama's plan would finance Democrats' pet projects -- such as $16 billion in grants for college students -- instead of creating jobs or stimulating consumer spending.
"I think the president is sincere," Boehner said. "We look forward to continue to work with him to improve this package."
Republicans agree the stumbling economy needs a rescue package. But they contend that the Democrats' $550 billion spending proposal is excessive while a proposal to cut taxes by about $275 billion does not go far enough.
GOOD COP, BAD COP
Some Republicans said their complaints were more about Democrats in Congress than with Obama.
"He's playing good cop and the Democratic leadership is playing bad cop," said Rep. Adam Putnam, a Florida Republican who described Obama as "very articulate, very candid" in the meeting.
"I thought he treated members with a great deal of respect. It was not your Rotary club treatment. He treated them as a former member of Congress would," Putnam told Reuters.
Another issue in the Capitol Hill meetings was the shaky condition of the U.S. financial system. Obama's aides are looking at ways to stem turmoil in the banking sector, which is worsening the credit crunch.
White House aides have not ruled out Obama seeking additional funds to help the financial sector beyond the $700 billion approved by Congress last October.
But the bailout program is unpopular with both parties so any request for more money could be a tough sell.
Putnam said Obama told the lawmakers that all tools needed to be used to help the economy and referred to a "broad consensus that we haven't stopped the bleeding in the banking sector yet."
Gibbs said Obama had not decided what additional steps might be needed to address the problem of bad assets held by banks. But he added, "The president will do what is necessary to ensure, first and foremost, that there's not an economic collapse." 
Follow Emirates 24|7 on Google News.