Obama strides into world of crises on first full day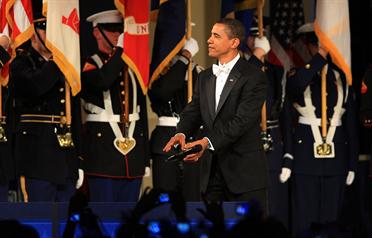 Pivoting from the giddy euphoria of his inauguration, President Barack Obama was confronting the Iraq war and the US economic crisis on his first full day in office Wednesday.
America's first black president, his Vice President Joseph Biden and their families were to start the day with a prayer service at Washington's National Cathedral featuring readings and musical performances.
The youthful new commander-in-chief was later set to summon his top military brass to direct dramatic alterations to the "war on terror" he inherited from former president George W. Bush, according to aides.
Declaring in his inaugural address Tuesday that the United States was "ready to lead once more," Obama said: "We will begin to responsibly leave Iraq to its people, and forge a hard-earned peace in Afghanistan."
Obama has vowed to pull most US combat brigades out of Iraq within 16 months and order a redoubled offensive against the Taliban in Afghanistan.
For that, he expects far more help from America's Nato allies. But German Chancellor Angela Merkel, while applauding Obama's assumption of power, warned that her goodwill did not extend to sending more German troops to Afghanistan.
She also expressed doubt on whether talking to Iran about its nuclear program would bear fruit, in another preview of the diplomatic challenges awaiting Obama and his designated secretary of state, Hillary Clinton.
Obama's rival for the Democratic nomination last year was expected to win easy confirmation in the Senate Wednesday despite Republican grumbling about the charitable foundation of her husband, former president Bill Clinton.
Obama was to meet with the Joint Chiefs of Staff after convening his economic team to strategize about his plan for an $825-billion package to haul the United States out of its longest recession since World War II.
While berating "greed and irresponsibility," Obama said Tuesday: "The state of the economy calls for action, bold and swift, and we will act -- not only to create new jobs, but to lay a new foundation for growth."
But in addition to Republican complaints about the stimulus bill, Obama faced uncertainty over his pick for Treasury secretary, Timothy Geithner, who was set for a rocky confirmation hearing Wednesday after confessing to past errors on his tax returns.
Democrats, however, rallied behind their youthful new president as Obama vowed to get to grips with the kind of economic emergency not seen since the 1930s Great Depression.
"In the coming days, weeks and months, we will work with President Obama to revive our economy, protect homeowners and consumers, bring our country closer to energy independence, strengthen our national security, and improve access to health care and education for all Americans," Senate Majority Leader Harry Reid said.
It is an awesome roll-call of challenges for Obama, who will need all the reservoirs of domestic and global goodwill engendered by his election triumph to make good on his pledge to remake the nation in the years ahead.
Bush said at his final press conference last week that "the minute he walks in the Oval Office," Obama will feel "the responsibilities of the president land squarely on his shoulders."
Even before entering the White House, the 44th president signaled an abrupt break with Bush's anti-terror offensive, declaring in his inaugural speech: "As for our common defense, we reject as false the choice between our safety and our ideals.
"Those ideals still light the world, and we will not give them up for expedience's sake."
That declaration is expected soon to take concrete form with an executive order from Obama to begin the process of shuttering the Guantanamo Bay detention center for terror suspects.
Asked if that order would come by the end of this week, new White House press secretary Robert Gibbs told CNN: "I don't want to get ahead of the president on this, but I would stay tuned for some announcements later in the week, sure."
The new team must first get to grips with their new surroundings as the West Wing of the White House fills out with Obama's high-powered advisers, policy aides, speechwriters and in-house lawyers.
"Now we just have to figure out how to log on our computers," Gibbs told reporters.
Follow Emirates 24|7 on Google News.