Obama would close Guantanamo within a year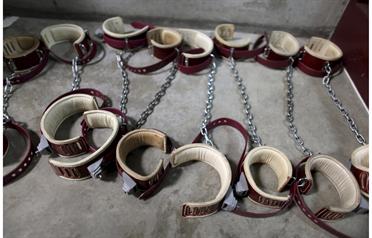 The new US administration moved swiftly Wednesday to deal with the US "war on terror" prison here, suspending war crimes trials and drafting an order that would close it within a year.
"The detention facilities at Guantanamo for individuals covered by this order shall be closed as soon as practicable, and no later than one year from the date of this order," said the draft executive order posted on the website of the American Civil Liberties Union.
The draft, however, said "lawful means" should be used to deal with dangerous detainees who cannot be transferred to other countries or tried in US courts.
Administration officials would not comment on the draft, which surfaced after Obama acted to suspend war crimes trials at Guantanamo for 120 days pending a review of detention policies and procedures at the offshore US prison.
The move would fulfill Obama's campaign pledge to close the detention camp, which was condemned as a legal black hole by rights groups and foreign governments.
The ACLU called the draft order "the first ray of sunlight in what has been eight long years of darkness."
New York-based Human Rights Watch also hailed the move.
"With the stroke of a pen, President Obama will make great progress toward restoring America's moral authority," Jennifer Daskal, senior counterterrorism counsel at Human Rights Watch, said in a statement.
"By shutting down a global symbol of abuse, he will deprive terrorists of a powerful recruitment tool."
However, the Center for Constitutional Rights, which has defended detainees at Guantanamo, expressed disappointment that the new president's draft order "gave his administration an entire year to sort out its plans."
The draft leaked out as a new CNN poll released Wednesday showed Americans were evenly divided over closing Guantanamo, with 51 percent in favor and 47 percent opposed.
The draft said it would not be in US interests to close the prison without first determining "the appropriate dispositions" of the individuals detained there.
"The unusual circumstances associated with detentions at Guantanamo require a comprehensive interagency review," it said.
The attorney general would be charged with leading the review, but the secretaries of state, defense and other departments and agencies would participate, according to the draft.
It said a substantial number of the estimated 245 detainees at Guantanamo might be transferred to other countries but others may have to be prosecuted for offenses they have committed.
"It is in the interests of the United States to review whether and how any such individuals can and should be prosecuted," it said.
The draft order said the review should determine whether it is feasible to prosecute in US courts detainees who cannot be transferred or released.
To handle those who can neither be tried nor transferred or released, the government "shall select lawful means, consistent with the national security and foreign policy interests of the United States and the interests of justice," the draft said.
It said no one should be held in any detention facility controlled by the United States in conditions that do not conform with Common Article 3 of the Geneva Conventions.
"The Secretary of Defense shall immediately undertake a review of the conditions of detention at Guantanamo to ensure full compliance with this directive," it said.
"Such review shall be completed within 30 days and any necessary corrections implemented immediately thereafter," it said.
Earlier, military judges here suspended war crimes trials of a Canadian detainee and five alleged September 11 co-conspirators in response to a request that was relayed Tuesday from Obama to US Defense Secretary Robert Gates.
"The practical effect is to pronounce this system dead," said Lieutenant Commander William Kuebler, defense attorney for Omar Khadr, the Canadian defendant. "There will certainly be no more military commissions in Guantanamo Bay."
Kuebler said he met with Khadr, who was 15 when he was captured in Afghanistan for allegedly killing an American soldier with a hand grenade. "He is anxious and doesn't know what will happen but we're all hopeful," he said.
But Sheikh Mohammed, the alleged September 11 mastermind, and three other co-conspirators -- Ali Abd al-Aziz Ali, Walid bin Attash and Mustapha al-Hawsawi -- objected during a hearing to their trial's suspension, which thwarts their quest for martyrdom.
Only Ramzi Binalshibh, whose mental competence to stand trial was to be examined this week, did not oppose the ruling.
Gates has instructed the Pentagon's Office on Military Commissions to refer no new cases for trial pending the outcome of the review.
Charges have been brought against 21 detainees, and 14 of those have appeared before military judges.
Follow Emirates 24|7 on Google News.