Oil rises above $46 on possible Opec supply cuts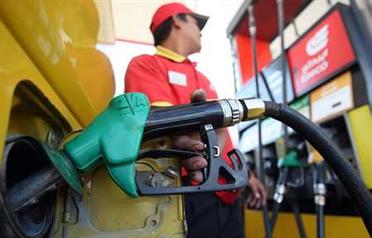 Oil rose more than 1 per cent to above $46 a barrel on Monday on speculation Opec may agree to cut production further at a meeting this weekend.
Opec Secretary General Abdullah al-Badri said on Monday the 12-member producer group would consider cutting output again at its March 15 meeting as it tries to counter downward pressure on oil prices from falling demand.
"All options are on the table," he told reporters in Qatar when asked if Opec, which pumps more than a third of the world's oil, may lower supply further at its meeting in Vienna.
The severe downturn in the global economy over the last year has reduced world energy consumption sharply and oil prices have tumbled from a peak of almost $150 a barrel in July.
US crude for April delivery rose $1.24 to $46.76 per barrel by 0950 GMT.
London Brent crude was up 5 cents to $44.90 a barrel. Brent closed at a discount to U.S. light crude oil futures on Friday, the first such discount since December 11.
The outcome of Opec 's meeting on Sunday seemed to be up in the air, analysts and traders said, with many oil producers waiting before pronouncing on output policy.
Some analysts expect a cut of around 1 million barrels per day (bpd) in Opec production but other say such a cut would be difficult and painful to implement.
"I think they will seek better compliance with existing quotas," said Christopher Bellew, oil broker at Bache Commodities in London. "My feeling is that Opec is able to prevent further price weakness but until the over-hang of oil stocks begins to be eroded, they will struggle to raise prices."
OIL DEMAND FALLING
Opec has already promised to cut oil production by a total of 4.2 million bpd from the production levels seen in September and Reuters surveys suggest the group has come close to meeting that pledge with compliance of more than 80 percent.
Badri said earlier on Monday Opec would slash its 2009 oil demand forecast by 1 million bpd because of the global economic slowdown. He said although the oil price was not really acceptable to the producer group, it was not as bad as it could be, given the state of the global economy.
He said on Friday low oil prices could provide economic stimulus in the short term, but at the cost of a supply shortfall in future due to low investment.
In a sign some oil investors may be expecting Opec to further cut output at its meeting, there were fewer open interest positions at the $25, $30 and $35 put options on the NYMEX April crude oil contract versus the previous week, according to Reuters data on Friday.
Open interest positions remained bulked at the $50 and $55 call options, with more at $55 than the previous week.
Still, analysts said the gloomy economic outlook would continue to cast a pall over oil prices.
Japan swung to its first current account deficit in 13 years in January as exports collapsed, and a key US policymaker said a coordinated global effort was needed to boost demand and drag the world out of recession.
Reports of belligerence by Iran, the world's fourth-largest oil exporter, could offer some support to prices, analysts said.
Iran has test-fired a new air-to-surface missile, Iranian media reported on Sunday, in the Islamic Republic's latest display of its military capability.
Tehran has sufficiently mastered nuclear technology to be able to produce a bomb if it chooses, Israel's military intelligence chief was quoted as saying on Sunday.
Follow Emirates 24|7 on Google News.