Organisers promise new tricks for Oscar ceremony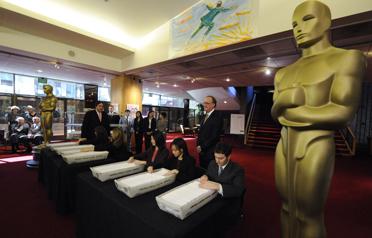 Oscar organisers on Monday warned nominees for the world's top film awards to keep on their toes during a more than three-hour ceremony later this month that will break with tradition.The producers "are going to take some risks, many risks, some bold", Sid Ganis, president of the Academy of Motion Picture Arts and Sciences, said at the annual luncheon given by the academy for Oscar nominees.
Producers Laurence Mark and Bill Condon are organising their first Academy Awards telecast, set to take place on February 22 from the Kodak Theater in Hollywood. But Mark and Condon have never produced the show before. They are best known for making musicals such as 2006 film Dreamgirls.
Instead of hiring a comedian to host the Oscars, as has been typical of Oscars past, they brought in Australian actor and song-and-dance man Hugh Jackman, and they have axed the famous opening monologue hoping for more spontaneity.
In December when Jackman was announced as host, Mark told Reuters that he and Condon want the telecast "to be more of a party and a celebration", but he declined to disclose details.
On Monday, Ganis was no less coy at the luncheon for more than 100 nominees, including stars such as Sean Penn and Penelope Cruz who are nominated for best actor and supporting actress in Milk and Vicky Cristina Barcelona respectively.
Ganis would not tell them what to say or do if they were one of the lucky winners. He advised that acceptance speeches "be brief, be personal and, of course, be heartfelt". And he added this final warning when explaining Condon and Mark had a few tricks up their sleeve: "stay alert".
Oscar organisers could use some risk-taking to turn around declining viewership. The 2008 broadcast, hosted by comedian Jon Stewart, hit a record low of 32 million US viewers compared to 39.9 million in 2007.
Still, the show remains annually the second-most watched programme on US television, and a crush of celebrities are expected to turn out, including Penn, Cruz, Brad Pitt, Angelina Jolie and Meryl Streep.
Along with those celebrities will be another group of actors who are no-less accomplished but not as well-known to average moviegoers. And on Monday, many of them talked about the nomination as a dream come true.
One was Viola Davis, nominated for supporting actress for her portrayal of the mother of a victimised son in Doubt. She said she grew up poor but was always supported by her parents, family and friends as she strived to achieve her acting goals.
"This has been just pure joy for me," she said of the nomination. "I truly, truly feel like I wanted to find a way out of my life when I was younger – poverty and living in a small town – and didn't know if I could do it. And this is everything I could've hoped for."
Follow Emirates 24|7 on Google News.