Police hurt as French Caribbean clashes escalate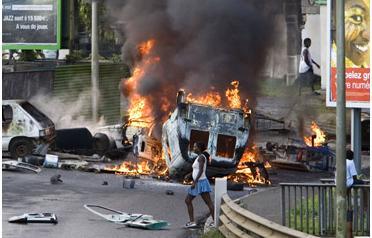 A month-long general strike that has spread to neighbouring Martinique has degenerated sharply in the past few days as negotiations have failed to produce a result, also fuelling fears that protests will start up again in mainland France.
"All night long, we hear shots being fired. No-one can go out onto the streets," the mayor of Guadeloupe's biggest town Pointe-a-Pitre, Jacques Bangou told Europe 1 radio.
"For the past 48 hours, the streets have been in the hands of groups of young people, completely out of control."
One group of some 30-50 people broke into a shopping centre in Pointe-a-Pitre and fired shots at police in a standoff lasting about an hour, Stephane Grauvogel, a local police official told France Info radio.
He said three officers were slightly wounded by gunfire in other incidents, while French media reports said at least six officers had been injured in various clashes.
Guadeloupe, a French overseas region that is a part of the European Union, has been brought to a standstill for the past month by a general strike over high prices for food and other necessities.
As the strike has continued, concerns have grown about a possible spillover of unrest to the mainland, where up to 2.5 million people took part in demonstrations last month to protest against the government's handling of the economy.
IMPORTS
President Nicolas Sarkozy, who has not spoken publicly about the situation in Guadeloupe, is expected to go on television later on Wednesday to talk about a meeting with union leaders to discuss measures to ease the impact of the economic crisis.
But it was unclear if he would talk about Guadeloupe, which he has largely left to Yves Jego, the recently appointed minister for overseas territories.
Guadeloupe depends heavily for fuel and many food staples on expensive imports, and prices are generally much higher than in mainland France, while unemployment runs at more than 20 per cent and wages are generally lower.
At the same time, most of the island's big businesses are in the hands of a minority of "beke" or white families, many the descendants of slave-era colonists, which has added to many protesters' sense of injustice.
The strike has been led by an alliance of about 50 unions and associations known as "Liyannaj Kont Pwofitasyon" (LKP), or "Stand Up Against Exploitation" in local dialect but the group appears to have no control over the latest clashes.
Elie Domota, leader of the LKP alliance, appealed for calm but said the incidents had been provoked by racist insults and brutality from police officers breaking up protests.
"So far, we have contained the anger of the young people," he told the daily Liberation. "But now that union members and protesters have been beaten and insulted with racist remarks, nobody can say what will happen." 
Follow Emirates 24|7 on Google News.
Several police officers were shot and slightly wounded by protesters on the French Caribbean island of Guadeloupe overnight in escalating demonstrations over the cost of living.