Scenes of horror in Haiti as hundreds feared killed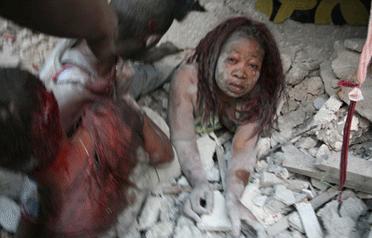 Streets in the Haitian capital Port-au-Prince were lined with bodies of the dead, injured and those seeking refuge from crippled buildings in the wake of a massive earthquake.
Hours after the 7.0-magnitude quake wrecked even the capital's most sturdy buildings, the dust and debris-covered Port-au-Prince was wracked by dozens more powerful aftershocks, forcing survivors to seek shelter on streets.
"The center of Port-au-Prince has been destroyed, it's a catastrophe," wailed Pierre, so traumatized he could hardly speak as he surveyed the devastation around him, having walked kilometers (miles) to find his house.
In just one terrifying minute at 2153 GMT on Tuesday the earth convulsed, flattening buildings and casually tossing chunks of twisted metal and concrete into the air. Hundreds are feared to have been killed.
Haitian police vehicles as well as those from the United Nations and the Red Cross tried to ferry the wounded to hospital, but progress was slow as chunks of rubble lay strewn across the torn and twisted roads.
No corner of the city was spared from the wave of destruction unleashed on city's two million inhabitants, witnesses said, with plumes of smoke and dust towering over Port-au-Prince's many shanty towns and its affluent suburbs alike.
The normally gleaming-white presidential palace on the central Champs de Mars square was seen in ruins, its central cupola now a collapsed symbol of a nation upended.
Hospitals, hotels, schools and government miniseries were also leveled.
Few residents dared to return indoors, terrified of being buried in one of the 27 large aftershocks which continued to rock the nation.
Sara Fajardo of Catholic Relief Services told AFP that staff were terrified the shocks, some measuring as much as 5.9, would topple more buildings.
"Most of the Catholic Relief Services staff is going to be sleeping on the CRS office compound but they're sleeping outside because they're too afraid to sleep indoors," she said.
Broken telephone lines and wrecked infrastructure made quick estimates of the scale of the damage impossible, but many feared the worst.
"When we get an idea of the toll it will be measured in the hundreds," a local doctor, who was bloodied and nursing an injured left arm, told AFP.
Still, messages and photos were trickling out via the email and microblogging site Twitter.
"I'm hearing singing and praying from the carrefour feuilles area.. My prayers go out to the folks there," wrote one message.
But in the gathering darkness, "it's getting quieter in PauP..singing and praying I was hearing earlier has died down..no helicopters..no sound of ambulances," another tweet said, referring to Port-au-Prince.
Other messages on Twitter presaged equally chilling tragedies to come. "Sorry, no word on Villa Creole," wrote one.
Pictures from around the city showed scenes of utter devastation, as dazed, dust-covered survivors were helped from the rubble.
Of those buildings left standing, many were scarred by long fissures where the plaster and bricks had cracked in the force of the quake.
The headquarters of the United Nations mission in the country was leveled, senior UN official Alain Leroy said.
The five-story concrete building, known as the Christopher Hotel and located on the road to Petionville, "has collapsed" and was surrounded by Brazilian MINUSTAH troops frantically trying to rescue people trapped inside.
Edmond Mulet, Leroy's deputy, said typically 200 to 250 people work in the main headquarters building. But he noted the quake struck after 5:00 pm and it was not known how many people were still inside.
The quake was felt as far away as Cuba and the Dominican Republic, but most initial damage was found in and around the Haitian capital.
Petionville, a suburb some 12 kilometers (seven miles) east of the capital, was also badly hit.
"I saw lots of destruction on my way. But I escaped when the building where I work collapsed," said Marie Claire, who works in a medical lab in Port-au-Prince.
The devastation will only add to the poverty and hardship already faced by the nation of 8.5 million people, where half of the people are unemployed and some 70 per cent live on less than two dollars a day.
Shortly after the massive quake, night fell, plunging an already tense city and its ravaged streets into darkness, and accentuating the panic and terror among the population.
Most radio and television stations had stopped functioning, and the airwaves were only punctuated by a few rare radio appeals for help.
Looting soon began, with residents taking items from a partially-destroyed supermarket early Wednesday.
"When my batteries die I will no longer be able to communicate..it's going to be a long night..our prayers go out to everyone," said one Twitter message.
Keep up with the latest business news from the region with the Emirates Business 24|7 daily newsletter. To subscribe to the newsletter, please click here.
Follow Emirates 24|7 on Google News.