'Slumdog' favorite as Globes launch Oscars countdown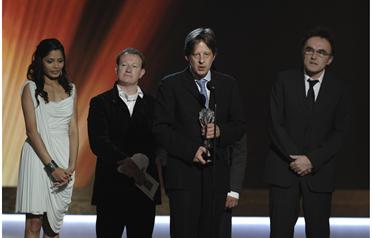 The race for honors at next month's Oscars cranks into overdrive here Sunday as a galaxy of stars descends on Beverly Hills for the 66th Golden Globes.
After a disastrous event last year that was reduced to a celebrity-free zone by the entertainment industry's writers strike, this year's red carpet parade will read like a who's who of the movie industry's A-list.
Brad Pitt, Kate Winslet, Tom Cruise, Angelina Jolie, Clint Eastwood, Leonardo DiCaprio and Meryl Streep are just a few of the Hollywood heavyweights vying for awards at the Globes, regarded as second only to the Academy Awards which take place on February 22.
Pitt is up for best actor for his performance as a man who ages in reverse in "The Curious Case of Benjamin Button," which along with "Frost/Nixon" and "Doubt" goes into the event with five nominations.
"Benjamin Button" and "Frost/Nixon" are regarded as strong Oscars contenders with nods in the key categories of best drama, best director and best actor.
However awards season pundits believe "Benjamin Button" could be pipped for best drama honors by "Slumdog Millionaire."
British director Danny Boyle's riotous feel-good flick tells the story of a boy who rises from crushing poverty in Mumbai to find fame and fortune on India's version of the television quiz show "Who Wants to be a Millionaire?"
The film's Oscar campaign picked up valuable momentum on Thursday when it swept the board at the Critics Choice Awards, winning five honors including best picture and best director.
"I think it's a real close race between 'Benjamin Button' and 'Slumdog Millionaire,'" said Pete Hammond, film critic for Maxim and a contributor to the Los Angeles Times's theenvelope.com.
"I've talked to many members in the Hollywood Foreign Press Association who just loved 'Slumdog Millionaire.' They're passionate about it and it played really well with them. But they also like and admire 'Benjamin Button.'"
Unlike the Oscars, the Golden Globes -- which are chosen by around 80 members of the Hollywood Foreign Press Association -- have separate best picture awards for dramas and musicals.
In the past four years the Globes have failed to accurately predict the best picture winner at the Academy Awards, but overall two-thirds of best picture Oscar winners had first received a Golden Globe.
Pitt's rivals in the best actor drama race include DiCaprio, who plays a frustrated 1950s suburbanite in "Revolutionary Road," Sean Penn as a trailblazing gay politician in "Milk," Frank Langella as disgraced US president Richard Nixon in "Frost/Nixon" and Mickey Rourke, a washed up brawler in "The Wrestler."
In the best actress drama race, Pitt's partner Jolie is nominated for her performance as a mother searching for her son in Clint Eastwood's period film "Changeling."
Other nominees include Anne Hathaway for "Rachel Getting Married," Streep for her performance as a tyrannical nun in "Doubt," Kristin Scott Thomas in "I've Loved You So Long" and Winslet for "Revolutionary Road."
Meanwhile Australian actor Heath Ledger is the hot favorite to win a posthumous Globe in the best supporting actor category for his acclaimed performance as the Joker in Batman blockbuster "The Dark Knight."
Ledger, who died of a prescription drugs overdose in January last year, faces competition from Cruise, Ralph Fiennes, Philip Seymour Hoffman and Robert Downey Jr. But pundits are tipping Ledger for success.
"I think if he wins on Sunday he's likely to go all the way to the Oscars," Hammond said. "Anybody but Heath Ledger would be an upset."
Sunday's Golden Globes get underway at 5:00 pm (0100 GMT).
Follow Emirates 24|7 on Google News.