Two plead guilty in US to supporting Tamil Tigers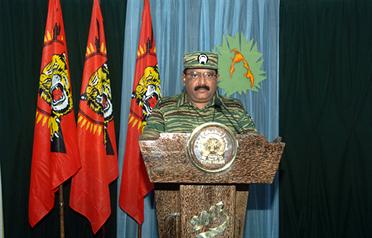 Two men accused of belonging to a US branch of Sri Lanka's Tamil Tigers pleaded guilty on Monday to conspiring to funnel resources to the rebel group, a court spokesman said.
Sathajhan Sarachandran, 29, and Nadarasa Yogarasa, 54, pleaded guilty on the eve of their trial at US District Court in Brooklyn to conspiring to provide material support to a terrorist organization, spokesman Robert Nardoza said.
Sarachandran also pleaded guilty to attempting to purchase guided anti-aircraft missiles.
The trial of two co-defendants, Sahilal Sabaratnam, 29, and Thiruthanikan Thanigasalam, 40, is expected to go forward on Wednesday.
Several other individuals -- including Karunakaran Kandasamy, the suspected head of the US branch of the rebel group, who stands accused of overseeing the organization's activities and fund-raising -- have been charged separately and are expected to go on trial later this year.
The United States designates the Tamil Tigers as a foreign terrorist organization.
The rebels, known officially as the Liberation Tigers of Tamil Eelam, or LTTE, have been fighting for decades for an independent homeland on the north and east of the Indian Ocean island.
On Monday, Sri Lankan army officials suggested the war might be coming to an end, saying they had captured the last big town held by the separatist group and confined the Tamil Tigers to a small wedge of jungle.
More than 70,000 people have died since 1983 and millions have been displaced in the war between the government and Tamil rebels who want a separate state in the island's north and east.
Prosecutors said the Tamil Tigers rely on sympathetic expatriates to raise money, get weapons and spread propaganda.
To coordinate these activities, the Tigers have established "branches" in at least 12 countries, including an office in the New York borough of Queens, prosecutors said in a complaint filed in US District Court in Brooklyn. 
Follow Emirates 24|7 on Google News.