US newspapers fight back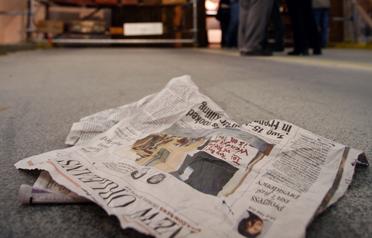 US
newspapers, reeling from sagging print advertising revenue, dropping circulation and the migration of readers online, are fighting back.
In a full-page advertisement in The New York Times, The Washington Post and other newspapers on Monday, a group called the "Newspaper Project" made the case that news on the printed page is not on the verge of extinction.
"More people will read a newspaper today than watched yesterday's big game," the ad declared in a reference to Sunday's American football championship, the Super Bowl between the Pittsburgh Steelers and Arizona Cardinals.
"With 100 million daily readers, newspapers are a tremendous scoring opportunity," the group said in a message aimed at advertisers.
"We acknowledge the challenges facing the newspaper industry in today's rapidly changing media world," said Donna Barrett, a member of the Newspaper Project and Community Newspaper Holdings president and chief executive.
"However, we reject the notion that newspapers – and the valuable content that newspaper journalists provide – have no future," Barrett, who is also president of Southern Newspaper Publishers Association, said in a statement.
On its website, NewspaperProject.org said it was launched by a small group of newspaper executives "to support a constructive exchange of information and ideas about the future of newspapers".
"Unlike websites that feature negative, gloom-and-doom stories about newspapers, this website will be devoted to insightful articles, commentary and research that provide a more balanced perspective on what newspaper companies can do to survive and thrive in the years ahead," it said.
The Newspaper Project said it planned to run ads in more than 300 other newspapers across the United States.
Other members of the group include Randy Siegel, president and publisher of Parade Publications, Brian Tierney, CEO and publisher of Philadelphia Media Holdings, and Jay Smith, former president of Cox Newspapers.
Social network Facebook on Monday was the venue for another initiative aimed at saving newspapers that has attracted tens of thousands of followers.
Chris Freiberg, a reporter with an Alaskan newspaper, the Fairbanks News Daily-Miner, launched "Buy a Newspaper Day" on Facebook urging people to buy their local newspaper on Monday.
"It doesn't matter if it's a daily or weekly, right-leaning or left-leaning. If you're a college student and you get the school paper for free, buy the town paper," Freiberg said.
The crisis in the US newspaper industry has been exacerbated by the recession and a steep drop in advertising.
Online advertising revenue has grown at many US newspapers but has failed to keep pace with the slide in print advertising revenue.
More than 15,600 newspaper employees were laid off or took buyouts last year, according to figures compiled by Erica Smith, a St. Louis Post-Dispatch journalist who tracks the cuts on her blog at graphicdesignr.net/papercuts.
The Chicago-based Tribune Co, which owns the Chicago Tribune, Los Angeles Times and other dailies, is one of the most prominent victims of the crisis and filed for bankruptcy protection in December.
The prestigious New York Times is also struggling and reported last week that net profit fell 47 per cent in the fourth quarter of the year.
The Times is also seeking to sell its stake in the Boston Red Sox baseball team and to sell part of its two-year-old headquarters building to a firm that specialises in sale-leaseback transactions.
A survey by the Pew Research Center for the People & the Press last year also found that the internet has surpassed newspapers as the main source of national and international news for Americans.
Follow Emirates 24|7 on Google News.