US urges swift G7 actions to save global economy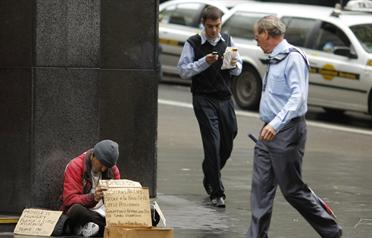 The United States urged the leading industrialized nations to act swiftly to rescue the global economy as it readied measures to stimulate its economy and stabilise the banking system.
On the domestic front, President Barack Obama warned US lawmakers of "catastrophe" without quick passage of a massive stimulus package, as the Treasury was set to unveil its plan Tuesday to boost financial confidence and restore credit flows.
Speaking to reporters, the US president previewed Treasury Secretary Timothy Geithner's announcement of how the administration intends to spend the remaining $350 billion of a bailout program for the banking industry.
"We are going to have to work with the banks in an effective way to clean up their balance sheets so that some trust is restored within the marketplace," Obama told his first White House news conference.
The plan will also include help for homeowners facing foreclosure or suffering from the nationwide slump in property values, Obama noted.
Earlier, Geithner, in a conference call with other Group of Seven finance ministers, urged them to act "promptly to restore health to the global economy," a Treasury statement said.
Geithner and the G7 finance ministers are due to meet Friday in Rome as governments redouble their efforts to battle a global recession.
Japanese Finance Minister Shoichi Nakagawa said the ministers would discuss how to prevent a return to the protectionism of the 1930s -- seen as a catalyst for the Great Depression.
"We've learnt from the Great Depression that it would lead to disaster if a law similar to the Smoot-Hawley Tariff Act comes up," Nakagawa said, referring to a law passed in 1930 that imposed sweeping rises in US import duties.
The European Union has also announced an extraordinary summit this month to coordinate action amid the concerns about protectionism.
And the World Bank's chief economist called for a "Marshall Plan" to help rebuild the global economy in the manner of the massive US aid plan for Europe at the end of World War II, and urged high-income countries to pledge two trillion dollars for the five coming years for the effort.
"Considering the global crisis we are in now, I think we should be more aggressive," World Bank chief economist Justin Yifu Lin told a Washington conference.
As America's dire economic plight cast a somber shadow, the president piled more pressure on lawmakers to agree on the $838-billion package, which survived a key test vote in the Senate and was set to clear its next hurdle on Tuesday.
"I also want to urge all members of Congress to act without delay in the coming week to resolve their differences and pass this plan," Obama said.
According to US media reports, Geithner's separate financial plan will include a government partnership with the private sector to buy banks' troubled assets, creating a so-called aggregator bank, commonly known as a "bad bank."
The Wall Street Journal said the "bad bank" would be seeded with funds from the 700-billion-dollar Troubled Asset Relief Program (TARP), "but the idea is that most financing would come from the private sector."
Meanwhile, France unveiled 7.8 billion euros ($10.4 billion) in state lending to the auto industry, in exchange for pledges to keep jobs and assembly lines in France.
National champions Renault and Peugeot Citroen will each receive loans of three billion euros over five years, President Nicolas Sarkozy announced, following crisis talks at the Elysee Palace with car manufacturers.
"This is not a gift. It is not a subsidy. It is a loan offered at a interest rate of six per cent," Sarkozy said.
Renault's Japanese partner, Nissan, forecast a net loss of $2.9 billion and said it would cut 20,000 jobs worldwide.
"The global auto industry is in turmoil. Nissan is no exception," said Nissan chief executive Carlos Ghosn.
The Geneva-based International Labour Organization warned that only "swift and bold" action to protect workers and families can avert a "social recession" in Europe on the heels of the economic crisis.
ILO director general Juan Somavia said before the opening of the eighth European meeting of the ILO in Lisbon that "we are seeing a dramatic deterioration in output and employment levels across the region."
Follow Emirates 24|7 on Google News.