Venezuela's Chavez wins vote to allow re-election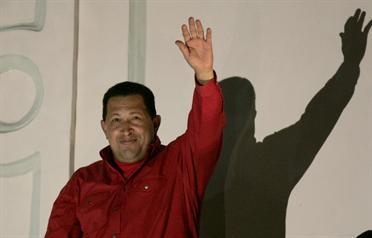 Venezuela's President Hugo Chavez won a referendum vote on Sunday that lets him stay in power for as long as he keeps beating rivals in elections, and bolsters support for his socialist and anti-US policies.
Chavez has already been in power for 10 years and the referendum vote helps clear the way for him to fulfill his declared goal of ruling for decades, although the global economic crisis will limit his ability to spend oil cash on nationalizing industries and extending his influence overseas. 
Electoral authorities said 54 per cent of voters approved a constitutional amendment to remove limits on re-election and allow Chavez to stay in office until he is defeated at the ballot box. His current term ends in 2013. 
"Long live the revolution," shouted Chavez, who was dressed in his signature red shirt and pumped his fist in the air as he stood on his palace balcony in front of thousands of flag-waving supporters. 
He led them singing the national anthem and they chanted "Heh-ho, Chavez won't go."
"This can't stop, because the future of this country is in the president's hands," said Juan Carlos Carrillo, 40, a clothes vendor who voted in Caracas.
Fireworks exploded across Caracas and caravans of cars and motorbikes sped through the city as Chavez supporters clad in red celebrated honking their horns."
Opposition leaders, who say Chavez is an autocrat bent on sculpting Venezuela into a replica of communist Cuba, tried to capture discontent over crime, economic mismanagement and corruption.
"If you want to see that the government has done, just look over there," said Doroteo Yose, pointing at impoverished shacks cramped onto the hillside of the capital.
But the government campaigned hard. A retired army paratrooper who once led a failed coup before winning power at the ballot box, Chavez has survived a putsch and two national strikes against his rule and has the loyalty of many poor Venezuelans.
He took office in 1999 as an underdog vowing to end corrupt elites, and is popular for spending on health clinics, schools and food hand-outs.
Calling former Cuban President Fidel Castro his political 'father', Chavez has become the standard bearer for anti-US sentiment in Latin America, using his Opec nation's oil wealth to help allies and counter US influence in the region.
He has strengthened ties with Russia and Iran, and allies in Ecuador and Bolivia have joined him in rewriting laws to extend their rule and increasing state control over the economy in the name of bringing wealth to neglected poor majorities. 
The victory on Sunday allows Chavez, 54, to put behind him a damaging vote loss in 2007, when his first attempt to remove constitutional restraints on his extended rule was defeated.
OPPOSITION BLOW
The result is a huge blow for Venezuela's opposition which had made gains in city and state elections last year after years of losing elections they often complained were unfair. 
Opposition parties had pinned their hopes on a popular but inexperienced and under-financed student movement spearheading opposition to Chavez. 
Discontent over high crime rates and soaring living costs - Venezuela's inflation is among the highest in the world - eroded Chavez's support but he was still able to pull out a victory.
Investors worry that Chavez will burn through international reserves to maintain social programs despite falling revenue, and the value of Venezuela's currency and sovereign debt could fall further. Both have slumped in recent months on low oil prices and concerns that Chavez may remain in power for years.
Chavez warned supporters they would lose social programs if he is unable to run again for re-election. In a familiar tactic, he also accused opponents of plotting a coup directed by Washington, and planning to cry fraud if he won. 
Chavez stepped into the political spotlight in 1992 when as a young army officer he led a failed coup. Captured, he gave a brief television address calling on his comrades to lay down their arms, saying they had failed "for now." 
After two years in prison, he entered politics, capturing the support of Venezuelans sick of discredited traditional parties in one of Latin America's oldest democracies. 
Ten years after he came to office, his allies control the National Assembly and the Pdvsa state oil company as he tries to forge what he calls 21st century socialism. 
Follow Emirates 24|7 on Google News.