White House talks tough as Senate nears stimulus vote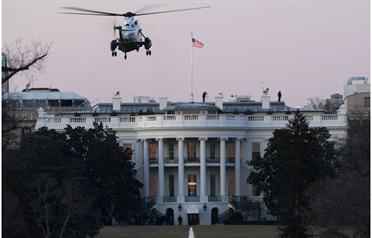 President Barack Obama's administration warned Sunday of a fight with Congress to reinstate billions in aid to states, as frenzied debate over a mammoth economic stimulus bill neared a climax.
Obama himself was set to return to barnstorming campaign mode Monday in a bid to rally Americans behind the stimulus package, before his team rolls out a revamped bank bailout Tuesday to attack the roots of the financial crisis.
National Economic Council director Larry Summers said the new-look Troubled Asset Relief Program (TARP) would prise open credit markets and include at least $50 billion to shore up the paralyzed housing market.
Treasury Secretary Timothy Geithner will present his proposals for spending the remaining $350 billion of TARP money on Tuesday, his department said, a day later than originally planned.
"The Senate votes on Monday, and economic officials administration-wide will be working and consulting with senators throughout the day," a Treasury statement Sunday said.
With the Senate soon to vote on its version of the economic stimulus bill, now worth at least $800 billion, Summers cried foul over Republicans' elimination of roughly $40 billion in assistance to US states.
"There's no question what we've got to do is go after support for education," he said on ABC program "This Week", after Republican pressure for more tax cuts stripped money largely intended for states' school budgets.
"And there are huge problems facing state and local governments, and that could lead to a vicious cycle of layoffs, falling home values, lower property taxes, more layoffs. And we've got to prevent that," Summers warned.
"So we're going to have to try to come together in the conference. And the president is certainly going to be active in sharing his views as that process goes on."
Whatever bill emerges from the Senate will have to be reconciled with an 820-billion-dollar version passed already by the Democratic-led House of Representatives, which devoted more to infrastructure and less to tax cuts.
Summers said the two versions overlapped by "90 per cent," and senior Democratic Senator Chuck Schumer predicted Congress would meet Obama's deadline of February 16 to finalize the bill.
"We will have a bill by the end of this week. The two bills are quite close," he told CNN.
However, there could be ructions with the House leadership after Speaker Nancy Pelosi reportedly accused the Republicans of pushing through "very damaging" cuts to state education needs.
Obama was Monday to take his case directly to the people with an event in Indiana before his first presidential news conference, in prime-time, and then appear in Florida Tuesday.
After appealing for bipartisan support, his tone has become much sharper as the stimulus bill has bogged down in the Senate, warning the Republicans that the November election was the final indictment of their economic philosophy.
In a weekly broadcast Saturday, Obama welcomed signs of a tentative deal among lawmakers, as the Senate held a rare weekend session following news Friday that the US economy shed a staggering 598,000 jobs in January.
"Because if we don't move swiftly to put this plan in motion, our economic crisis could become a national catastrophe," the president said.
But despite the outlines of a compromise by moderate Democrats and Republicans, senior opposition senators remained adamant that Obama's stimulus package would prove a gigantic waste of money.
"We are going down a road to financial disaster. This is not the right road to go. We'll pay dearly," Richard Shelby, the top Republican on the Senate's banking committee, told CNN.
"Until we straighten out our banking system ... this economy is going to continue to tank," the Alabama senator added.
Summers said fixing the banking industry was indeed the goal of Geithner's announcement Tuesday.
Without going into details, the top White House adviser said the refashioned program would assist banks dispose of bad assets while promoting new lines of credit in a climate of greater transparency.
"And absolutely critically," he said, the TARP funds will ensure "that government is acting aggressively to contain the damage in the housing markets."
Follow Emirates 24|7 on Google News.