World rings in new decade with parties, security fears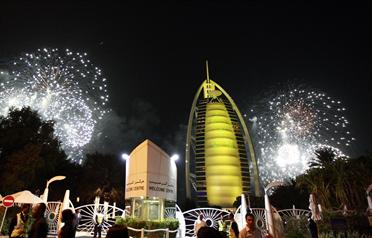 Revelers worldwide met the New Year with spectacular fireworks displays and joyful parties against a backdrop of tightened security.
Cheers and confetti filled New York's Times Square when the traditional midnight drop of a multi-colored crystal ball signaled the start of 2010 and a fresh decade.
The city was on high alert following the alleged Christmas day attempt by a Nigerian man to blow up an airliner bound for Detroit.
Hundreds of uniformed and undercover police, as well as radiation detectors and sniper teams, monitored the enormous crowd, which braved snow and rain to attend the party.
But security fears did nothing to dampen the mood there or at other street parties around the globe as the world bid farewell to a decade overshadowed by terrorist attacks, US military campaigns, and financial turmoil.
In London, more than 200,000 people lined the banks of the River Thames to watch fireworks explode from the London Eye, the giant Ferris wheel across from the Houses of Parliament and Big Ben.
As many as 80,000 people turned out in the Scottish capital for the Hogmanay festivities, some sporting furry horned tartan helmets as they watched fireworks at the magnificent Edinburgh Castle.
Earlier, some 120,000 Russians gathered on Moscow's Red Square to toast 2010 and hear words of encouragement from President Dmitry Medvedev, whose country is in a deep economic slump.
"The past year was not a very easy one for our country, and I want to thank you all for bearing up together," he said the traditional presidential New Year address.
The global party started in the South Pacific.
In Australia, about 1.5 million people lined Sydney Harbor to watch fireworks pour into the midnight sky from the iconic Sydney Harbor Bridge and four barges.
Thousands of people crammed into Hong Kong's harbor, where 9,000 fireworks were unleashed from the city's tallest skyscraper and other buildings.
Such spectacles were banned in Thailand, after fireworks caused a New Year's Eve blaze at a Bangkok nightclub a year ago killing 65 people.
In Paris, about 70,000 people gathered near the Eiffel Tower for a light show, while more than 8,000 police deployed across the city and suburbs where 1,100 cars were burned by arsonists last New Year's Eve.
In a further precaution, the authorities banned the filling of portable containers at petrol pumps, as well as glass bottles and fireworks on the Champs Elysees, the Parisian avenue where another 200,000 people gathered to see in the New Year.
Roman Catholic Pope Benedict XVI, in traditional prayers in St Peter's Basilica on the last day of the year, called on Christians to help families hit by economic difficulties and unemployment.
In Berlin, more than one million revelers were expected on the boulevard leading to the Brandenburg Gate, the symbol of German unity, with live bands and DJs to crank up the party.
In Spain, which took over the shared EU presidency at midnight, thousands of people attended a light and sound show at the central Puerta del Sol square where a giant image of the EU flag was projected onto a building.
"This is the best street party in the world. Now I am going to work on my first hangover of 2010," said Gerry Shalloe, a 32-year-old English teacher from Ireland who lives in Madrid and who attended the countdown with friends.
In Poland, some 90,000 people ushered in the New Year at a concert in Warsaw in memory of Michael Jackson attended by the late pop singer's sister La Toya.
Ukraine's President Viktor Yushchenko, facing an uphill re-election bid on January 17, used his address to argue for the ex-Soviet republic's push to join the European Union and NATO.
Despite the celebrations, police in major cities were also focusing on preventing terrorist attacks.
US jitters after the Christmas airliner bomb plot rose again Wednesday when New York police ordered the brief evacuation of Times Square and investigated what they said was a suspicious van -- which later proved to be harmless.
The US embassy in Indonesia said meanwhile it had received a warning of a possible attack on the resort island of Bali, the scene of multiple bombings targeting Westerners, but local authorities denied knowledge of any alert.
In Pakistan, where the Taliban's guerrilla campaign rebounded in 2009, the New Year was overshadowed in Karachi by a suicide attack during a holy Shiite Muslim ceremony on Monday that killed 43 people.
In neighboring Afghanistan, US-led soldiers were on alert after two militant attacks claimed the lives of eight Americans and five Canadians, while two French journalists were reported kidnapped by Taliban.
For Cyprus, New Year's Eve was the last chance to smoke in pubs, clubs and cafes with a new anti-smoking law in force from January 1.
And in South Africa, President Jacob Zuma used his New Year message to rally for unity for the 2010 football World Cup -- the first ever to be held in Africa.
New Year's Eve also presented the world with a "Blue Moon", the name for a second full moon in one single month, for only the second time in nearly two decades.
Follow Emirates 24|7 on Google News.