'Arab youth stress on harmonious relations'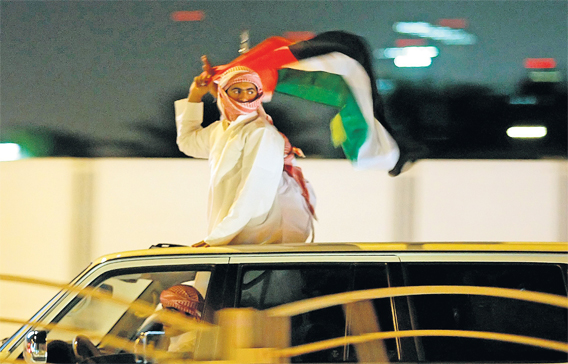 A majority of young Arabs regard harmonious relations with the international community as a priority and view themselves as global citizens, says a new report.
The findings contradict the widespread perception of the Middle East as a region defined by conflict and a growing East-West cultural and political divide.
Seven out of 10 Arab youngsters share a sense of common identity beyond ethnicity, religion or national background and embrace global citizenship, according to the second annual ASDA'A Burson-Marsteller Arab Youth Survey.
Researchers carried out 2,000 face-to-face interviews with Arab nationals and expatriates aged between 18 and 24 across nine Middle East countries – the six GCC states plus Egypt, Jordan and Lebanon.
Respondents were asked to rate the importance of global citizenship – the shared feeling of identity regardless of ethnic, religious or national background. Seventy per cent described the concept as either "somewhat" or "very" important.
Arab national and expatriate youth in the UAE went even further, with 79 per cent describing it as "somewhat" or "very" important. A plurality of youth in every country surveyed agreed, with the exception of Oman, where 41 per cent said the notion of global citizenship was either "somewhat" or "very" important.
"As with the previous survey, our second in-depth attitudinal study of Arab youth challenges a number of inaccurate assumptions about the beliefs and behaviour of the Middle East's largest and most important demographic," said Sunil John, CEO, ASDA'A Burson-Marsteller, which commissioned the survey.
"Far from rejecting globalisation, Arab youth appear to be actively seeking to participate in the trends shaping the international community. Politicians, business leaders, educators, marketers and the media would do well to take note.
"Arab youth are talented, media-aware and eager to make their mark on the world as fully engaged global citizens. The survey zeroes in on critical points in the discussion with young people, maximising the effectiveness of communication and bringing decision-makers closer to an increasingly influential and vocal community," he added.
The research was conducted in October 2009 by international polling firm Penn Schoen & Berland Associates (PSB) and the survey covered more people and countries than the inaugural study in 2008.
Robert Kellman, Middle East Business Director, PSB, said: "The second survey has greater reach, more depth and is even more representative of the divergent views of young men and women across the major Arab nations than the 2008 study.
"The interview sample is weighted to reflect the socio-economic make-up of the participating countries, the geographical distribution of population within them and the opinions of women as well as men." More details of the findings will be revealed at a reception on Sunday.
Keep up with the latest business news from the region with the Emirates Business 24|7 daily newsletter. To subscribe to the newsletter, please click here.
Follow Emirates 24|7 on Google News.