A way off drugs for India's street children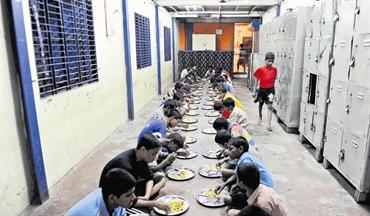 Mohan was 13 when he ran away from his village because he did not want to sit an exam. He ended up in Mumbai, fearing beatings or worse each time he slept on the streets or at bus stops.

Like many of his young friends he turned to drugs, finding the highly addictive chewing tobacco 'gutka', glue sniffing and hashish helped him to cope. "You feel free. You don't feel the stress of street life. You need to forget, block it all out. It's an escape," he said.

Mohan, now aged 25, found sanctuary six years ago at a charity for street children, beating his drug habit through its detoxification programme and putting himself on the path to recovery.

Now he earns Rs4,800 (Dh387) a month as an assistant chef at a restaurant in Chennai and is back in touch with his family.

Mohan, who asked his real name not be used, is one of the success stories at the Society Undertaking Poor People's Onus for Rehabilitation – or Support for short.

Fifty young boys and 26 girls aged five to 18 are currently living at the charity's Mumbai centres. Thirty youths aged 18 and above are also being given vocational training. These real-life equivalents of the children in the hit film Slumdog Millionaire have all been referred to Support after being found living on the streets.

Charities working with street children say the scale and the complexity of the problem is huge and becoming more acute as India's population expands and migration to cities increases.

Accurate figures are difficult to come by, but India is estimated to have between 18 million and 20 million street children, according to charities and a number of research studies.

The United Nations has said that up to 250,000 live in Mumbai, though Support trustee Hoshang Irani says that is a gross under-estimation. "We just can't help everyone," he admitted.

Yet non-governmental organisations do what they can with modest resources and funding from business, individuals and local authority subsidies.

Irani, a former banker, described the causes of drug-addicted street children as "the usual Oliver Twist story" – children fleeing physical or sexual abuse, extreme poverty or abandonment. In Mumbai, some are attracted to the bright lights of Bollywood.

But when reality bites, they can fall in to begging and petty theft to survive.
Keep up with the latest business news from the region with the Emirates Business 24|7 daily newsletter. To subscribe to the newsletter, please click here.
Follow Emirates 24|7 on Google News.