Aid delay gives rise to tensions in Haiti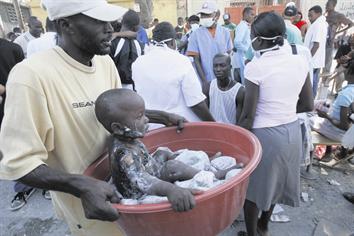 Tensions rose among desperate Haitians awaiting international aid and hunting for missing relatives yesterday as aid began to trickle in four days after an earthquake that Haitian authorities say killed 200,000 people.

Haiti's shell-shocked government gave the United States control over its main airport to bring order to aid and food flights from around the world and speed relief to the impoverished Caribbean nation.

US Secretary of State Hillary Clinton was heading to Port-au-Prince yesterday to meet Haitian President Rene Preval at the airport. Her plane was to bring in supplies and return with evacuated Americans.

Trucks piled with corpses have been carrying bodies to hurriedly excavated mass graves outside the city, but thousands of bodies still are believed buried under rubble.

"We have already collected around 50,000 dead bodies," Interior Minister Paul Antoine Bien-Aime said. "We anticipate there will be between 100,000 and 200,000 dead in total, although we will never know the exact number."

Some 40,000 bodies had been buried in mass graves, said Secretary of State for Public Safety Aramick Louis.

If the casualty figures turn out to be accurate, the seven-magnitude quake that hit Haiti on Tuesday and flattened much of its capital city would be one of the 10 deadliest ever. Health Minister Alex Larsen said three-quarters of Port-au-Prince will have to be rebuilt.
Keep up with the latest business news from the region with the Emirates Business 24|7 daily newsletter. To subscribe to the newsletter, please click here.
Follow Emirates 24|7 on Google News.