August soonest for poll: Afghan vote authority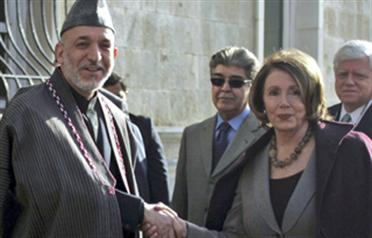 Afghanistan's voting authority reiterated on Sunday that August was the soonest it could deliver a free and fair election but said it would review a presidential order for the poll to be held by April.
US Secretary of State Hillary Clinton, meanwhile, discussed the election date in a telephone call with President Hamid Karzai late Saturday, the Afghan presidential office announced, as Washington said it preferred an August poll.
Karzai Saturday issued a decree that said that presidential elections must be held in a timeframe laid out by the constitution, which says his term ends May 21 and polls should be held 30 to 60 days before then.
The Independent Election Commission announced in January it could not meet the constitutional timeline and needed until August to prepare for a fair vote with extra NATO troops also expected later in the year to help with security.
This was still the commission's position, Deputy Chief Electoral Officer Zekria Barakzai told AFP on Sunday. "The IEC considered all aspects of a free and fair election in view of a large participation of voters and considering security, climate, funding and operations when it said that was the soonest date possible," he said.
However, the body would review the Karzai's decree, which it had yet to receive officially, and then announce its reaction, Barakzai said. Asked if the president had the power to choose the election date, he would not comment.
The August date was supported by Afghanistan's international allies who will bankroll the vote, expected to cost around 230 million dollars including polling for provincial and district councils.
The United States reiterated on Saturday that elections in August "is the best means to assure every Afghan citizen would be able to express his or her political preference in a secure environment."
Clinton and Karzai spoke about the elections in a telephone call late Saturday that also touched on "Afghanistan's situation and different aspects of bilateral cooperation," Karzai's office said in a statement.
Karzai's decision appears to have been made to head off a dispute about how the country should be governed between the constitutionally stipulated end of his term in May and the August election.
But it comes with none of the serious challengers to Karzai, who has said he would stand for re-election, officially confirming their candidacy.
The main opposition alliance, a fragile coalition of about 20 groups, said Sunday the president's decree may be an attempt to force a state of emergency that would see his term extended until the next election.
However, "If there is an election (in April), we will go with it," National Front spokesman Sayed Aqa Fazil Sancharaki told AFP, adding the alliance had chosen a candidate whose identity could not yet be made public.
Follow Emirates 24|7 on Google News.