Australian umpires slam Pakistan security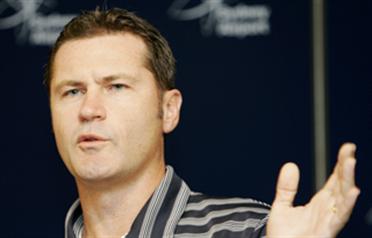 The two Australian umpires caught up in the attack by gunmen on the Sri Lankan cricket team in Pakistan have slammed the security arrangements for the tour.
Steve Davis and Simon Taufel echoed complaints from English match referee Chris Broad in claiming they were abandoned by Pakistan security forces when a dozen gunmen opened fire on them on Tuesday. "In our hour of need we were left on our own," Taufel told reporters after arriving in Sydney on Thursday. "I'm angry that we were isolated. I'm angry that we didn't get the same level of security that the players got."
Davis said the match officials had been promised high-level protection but security forces left them to fend for themselves after rushing to the aid of the players. "We were certainly left without any security in our van when we were being fired upon," Davis told a news conference at Melbourne airport. "The security obviously went with the Sri Lankan bus. When they managed to get away, we were left there and no one came back for us."
The umpires and players all came under attack while they were being driven in a convoy to the Gaddafi stadium in Lahore for the third day of the second test between Pakistan and Sri Lanka. The driver of their van was among seven people killed in the ambush, leaving the officials stranded in the crossfire as they were unable to follow the team bus into the stadium. "The driver's foot was lodged on the accelerator and it was revving at a million miles an hour," Davis said.  "Eventually a police officer came from somewhere, dragged the driver's body out, and drove us at top speed to the stadium." The match officials instinctively threw themselves on the floor of the van when the gunfire erupted. 
"WAR ZONE"
A local umpire, Ahsan Raza, was critically injured and Taufel said the other officials were also expecting to be shot while they were lying on the floor waiting for help. "We were caught in a war zone," Taufel said. "The gunfire ... it just kept going. We thought, when's it going to stop? Who's going to come and save us, how are we going to get out of here? I was expecting a bullet." The comments from the Australians follow similar complaints from Broad, who told reporters on his return to Britain that he and colleagues were left like "sitting ducks".
Pakistan authorities have defended their security arrangements against the criticism. Six Pakistani policemen were killed in the gunfire.  "There's a bit of anger there that we were let down," Davis said. "We had all sorts of assurances before and I'm sure the team feels that way too[…]Despite all that, this was still able to happen and we were put in a very vulnerable position and felt very helpless."
Taufel rated the protection they were given as two out of 10. "We were promised a nine and got delivered a two," Taufel said. "You tell me why supposedly 20 armed commandos were in our convoy and when the team bus got going again we were left on our own? I don't have any answers to these questions."  
Both umpires were still visibly shaken by the incident when they fronted the media on their arrivals to their home ports in Australia. Taufel, who has won the International Cricket Council's umpiring award each of the five seasons it has been presented, said he was uncertain about his future while Davis said he wanted reassurances before returning to the subcontinent. "I think I'm still numb," Davis said. "I couldn't fathom this was happening to a group of umpires who were here to umpire cricket.  "I was naive to think cricket was above all that. "I'll just go and do my job but obviously I want to make sure we get all the assurances and the security that we are promised.    "I'm sure there'll be a lot of soul searching from this and a lot of questions asked."
WHAT DO YOU THINK?  Was there insufficient security during the Lahore attacks? Have your say by posting a comment below, or emailing us at online@business24-7.ae.
Follow Emirates 24|7 on Google News.