Bangladesh and India sign deals to promote bilateral trade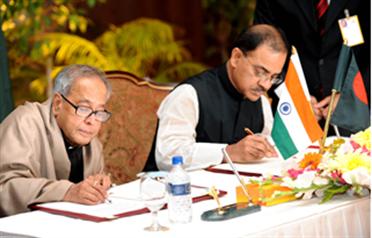 Bangladesh and India have signed two deals to promote bilateral trade and investments.
An agreement to promote and protect mutual investments, and another one renewing a decades old bilateral trade treaty  'which is renewal every three years and is due to expire next month' were signed Monday during a day long visit by Indian External Affairs Minister Pranab Mukherjee to the Bangladeshi capital, Dhaka.
During meetings with Bangladeshi government ministers, Mukherjee said the two sides also discussed other interests like reducing a huge trade gap 'which is largely in India's favor, security concerns' including forming a regional task force to fight terrorism, border issues like demarkation of land and maritime boundaries, and improving cross-border rail, road and river links.
Follow Emirates 24|7 on Google News.