Bangladesh cracks down on Islamist group after blast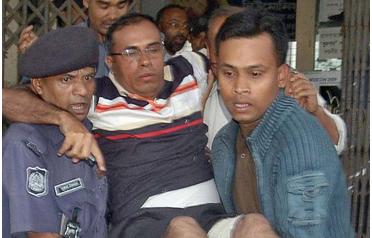 The militant and three other members of the Jamaat-ul-Mujahideen were being paraded before journalists along with weapons captured from them on Friday when he managed to grab and detonate a grenade.
Police and journalists were among the wounded in the incident in Gazipur, 30km north of the capital Dhaka.
 On Saturday police raided a suspected hideout near the site of the incident and arrested four more members of the Jamaat which has been waging a campaign for introduction of shariah law in Bangladesh.
A police officer said explosives were also seized from the hideout.
Police had tightened security across the country on reports that the group was planning to attack ceremonies marking a language anniversary on Saturday, he said.
The day marks the killing of students by police more than half a century ago for demanding Bengali to be made a state language in what was then East Pakistan.
The Jamaat suffered a setback in 2007 when six top commanders were hanged, but police and intelligence officials say their followers have been regrouping ever since and plotting attacks.
Follow Emirates 24|7 on Google News.
Bangladesh police arrested four members of an underground Islamist group in a crackdown on Saturday, an officer said, a day after a suspected militant set off a grenade inside a police station wounding 10 people.