Bangladesh police arrest suspected leader of BDR mutiny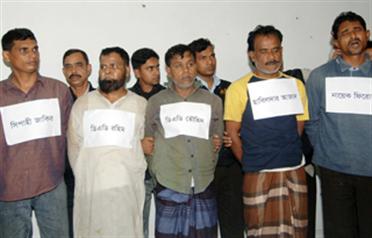 Bangladeshi police say they have arrested the suspected ringleader of a deadly insurrection by border guards, an attack the prime minister cited as proof of a 'conspiracy' against her fledgling government.
The army, meanwhile, continues to search for more than 1,000 border guards who fled after last week's mutiny at their headquarters in Dhaka that left at least 69 people dead.
Prime Minister Sheikh Hasina told supporters Tuesday night that the attack proved there was 'a conspiracy' against her. According to A.K. Azad, a spokesman for the elite police unit that carried out the raid, the alleged ringleader, Syed Tauhidul Alam, was arrested in a Dhaka slum on Tuesday along with four other border guards, all of whom have been charged with murder and arson.
WHAT DO YOU THINK? Was the BDR mutiny a conspiracy against the current government? Have your say by posting a comment below, or emailing us at news@emirates247.com.
Follow Emirates 24|7 on Google News.