China declares emergency as drought bites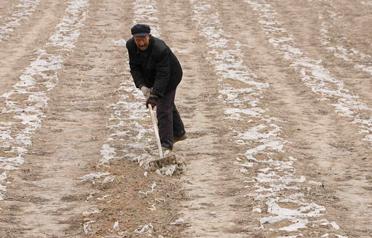 China has declared an emergency over a long dry spell threatening crops and farmers' incomes in the rural heartland, official media said on Thursday.
The drought gripping parts of central and northern China has sent Zhengzhou wheat futures prices up 5 per cent this week, but physical prices have not moved, with most investors confident the country's reserves and last year's big harvest can offset any fall in wheat production this spring.
But the dry could hurt the incomes of farmers in Henan, Anhui and other populous provinces when many have lost factory and construction jobs after China's growth faltered in late 2008.
The national Office of State Flood Control and Drought Relief declared a "level 2" emergency, calling it a "severe drought rarely seen in history", the People's Daily and other official media reported.
Zhang Zhitong, a deputy chief of the office, said local officials must make "fighting the drought and protecting seedlings a major task" and expand irrigation coverage.
The absence of rain or snow since November has affected 9.5 million hectares of farmland – 43 per cent of the winter wheat sources, the China Daily reported.
But almost 40 per cent of drought-hit wheat areas in seven provinces had been irrigated, the Agriculture Ministry said on Wednesday, easing worries about lost crops.
The ministry said farmers in these provinces, including Henan, Shandong and Hebei, had irrigated 3.79 million hectares of wheat, accounting for 39.6 per cent of the 9.5 million hectares hit by drought.
Ma Wenfeng told the China Daily the drought could reduce annual production in major wheat-growing areas by 2 to 5 per cent.
"The severest-hit regions of Henan and Anhui will see their wheat harvest down by about 20 per cent," Ma said.
Both those provinces are home to millions of migrant labourers who travel from villages to cities and coastal industrial zones for work. And this week, the government said that around 20 million of the nation's 130 million migrant workers had lost their jobs because of the economic slowdown. 
Follow Emirates 24|7 on Google News.